This guide in many instances references offerings as they are under normal circumstances. As with so many businesses these days, schedules and protocols are changing all the time. We strongly suggest confirming opening times in advance.
While not a complete secret, Margaretville and the scenic surrounding areas seem to play second fiddle to their better-known neighbors to the east, like Phoenicia and Woodstock, and to the south Livingston Manor and Callicoon. But we're here to tell you that not only Margaretville, but especially nearby Roxbury, should be on your must-visit list for their eye-popping scenery, burgeoning business community and myriad activities. The distinctly rural character coupled with a blossoming food and culture scene makes this a part of the Catskills that should be on your radar.
Read on for where to dine and what to do when you put on your OOO and slip into vacation mode.
WHERE TO DINE AND DRINK

MARGARETVILLE
Located about 140 miles northwest of New York City, Margaretville is the business hub of the region. It may be a small village of some 600 residents, but the area is awash in stunning scenery including bucolic farms and trout-filled waterways, a solid foundation for any Upstate trip. Throw in worthy dining destinations and myriad outdoor pursuits, and you're well on your way to a memorable vacation.
This family-owned local eatery (as the Italian name implies) is, well, family-owned epicurean perfection. Inside an "old house"-style setting, the Italian menu boasts wonderful cuisine including handmade pasta, homemade bread, and hand-pulled mozzarella. Save room for the delectable tiramisu, strawberry cream crostata, and blood orange cream cake—and pencil in that hike for tomorrow.
520 Main Street, Margaretville, 845.464.5305
Originally known as The Binnekill Square and an area staple, this centrally-located restaurant perched over the Binnekill Stream received a refresh with new ownership and new chef Bryan Calvert in 2018. Savor "mountain comfort food" with recognizable favorites like honey glazed salmon, jumbo shrimp cocktail and terrific burgers, and sip craft cocktails at the copper bar, by the fire, or out on the dining terrace.
746 Main Street, Margaretville, 845.586.4884
For grown-up fun, venture to this farm-licensed craft distillery making vodka distilled from apples and wheat, and a vodka distilled from local maple syrup and purchase to go, or better yet, grab a seat and order up a craft cocktail and relax on their front deck. Check social media for their roster of periodic live music. Located in Arkville. (Arkville and Margaretville are really at either end of the same "neighborhood".)
43311 State Route 28, Arkville 607.287.0208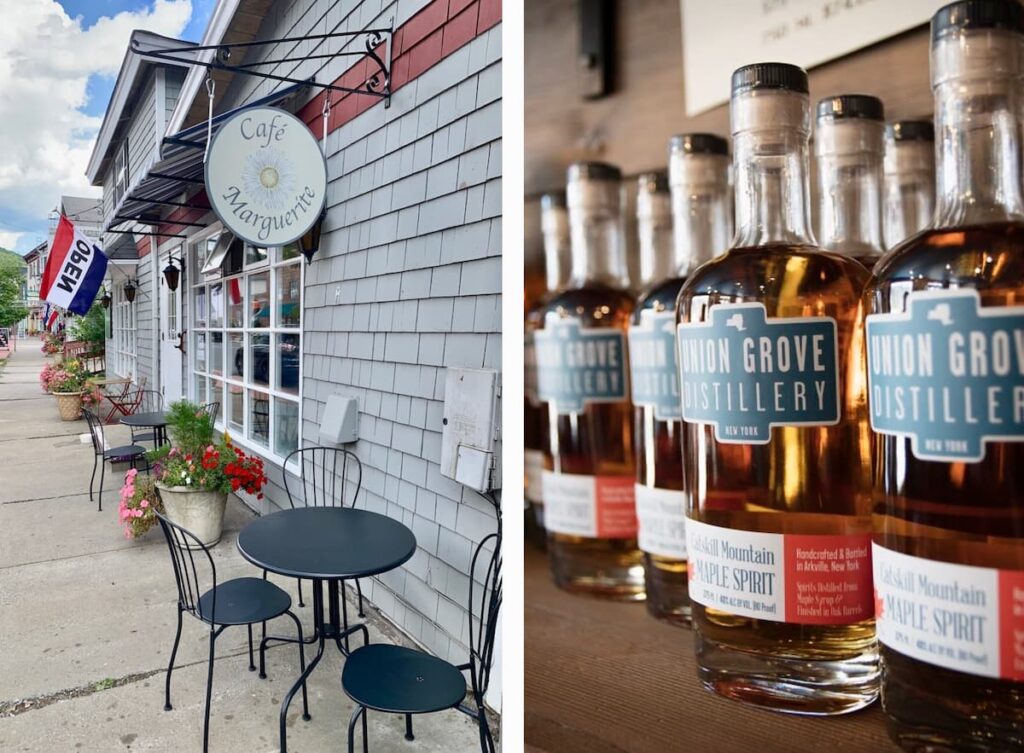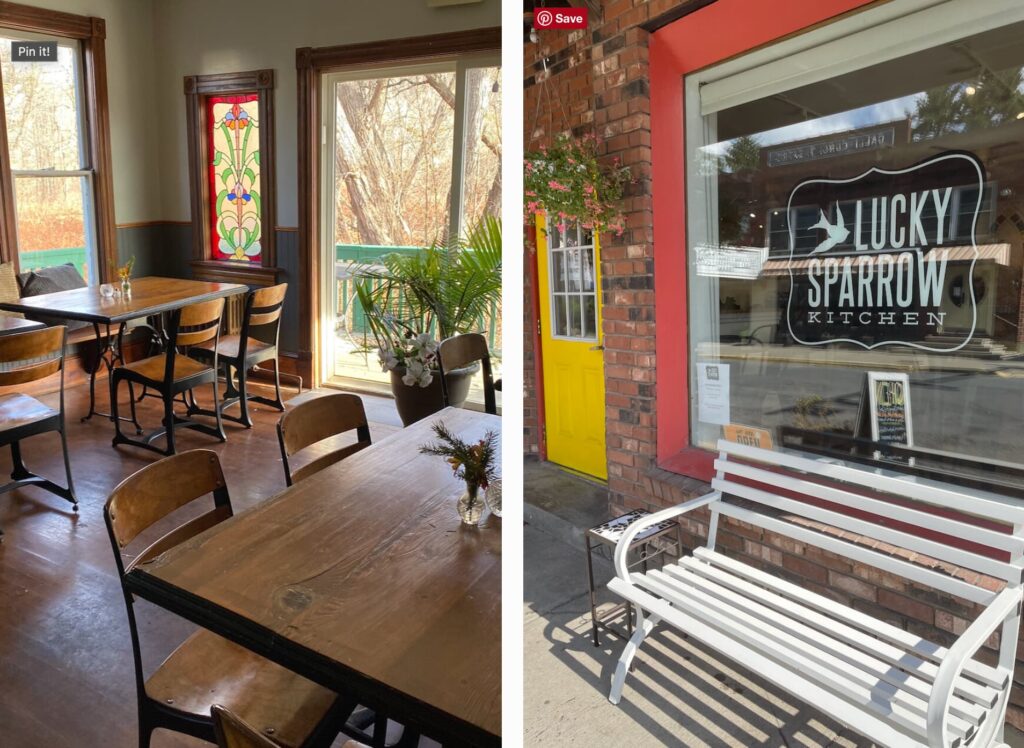 If you're traveling with kids, they'll beeline straight for the ice cream and milkshakes. If it's just the adults, you'll be glad you embraced your inner child and lined right up for ice cream too.
86 Bridge Street, Margaretville, 845.586.4440
Oh, Cafe Marguerite. Let us count the ways we love you: Quiche, avocado toast, smoked salmon on an everything croissant, pain au chocolat, toasted almond horchata, maple latte, to name a few that are top of mind. Coffee snobs will rejoice at their offerings, but also don't leave without trying their spicy hot chocolate or white chocolate (!) beverage.
746 Main Street, Margaretville, 718.484.2121
A welcome addition to Margaretville's Main Street as of late summer 2021, the motto here is "good food that's good for you," and they more than deliver on that promise. Pick up a few grab-and-go soups, salads, and sandwiches, or opt for "Prepped by Lucky Sparrow Kitchen," their weekly menu of seasonal, ready-to-eat meals available á la carte or as part of their Weekender Kit which features three days of breakfast, lunch, dinner and even snacks for two-to-three people for around $200. Personally, we're still dreaming about Lucky's Niçoise, the lemon tahini kale salad, and the 24 Carat sandwich (roasted carrot hummus, arugula, tomato, cucumber on a baguette).
798 Main Street, Margaretville, 845.586.6400
A popular spot for breakfast or lunch, grab sandwiches to-go or sit and eat in the historic Granary Building with your spread. On offer is a wide array of breakfast dishes, bagels, or a long list of standout sandwiches like the Duke (roast beef, cheddar, roasted red peppers, pickled onions, horseradish sauce) or the Sophia (fresh mozzarella, roasted red peppers, lettuce, tomatoes, basil pesto, balsamic vinaigrette).
75 Bridge Street, Margaretville, 845.586.1919

ROXBURY
Roll into the bijou hamlet of Roxbury, which is a picturesque drive under 20 minutes from Margaretville, and you'll sense the hybrid "hip-rural" vibe, where sophisticated offerings are delivered in a pleasingly personal and friendly way. They're so glad you've come by. Whether born and bred locals or ex-urbanites, these local entrepreneurs have put their own spin on their particular offering, and the community embrace has made Roxbury a great destination for a road trip, or if you just need to pick up some supplies to bring home with you. There are now a few food and drink options, to consume there or take away.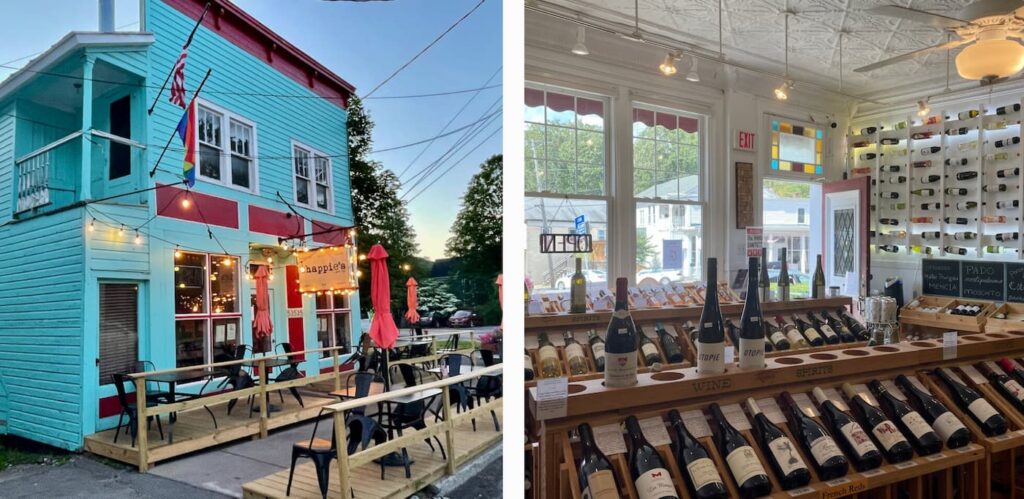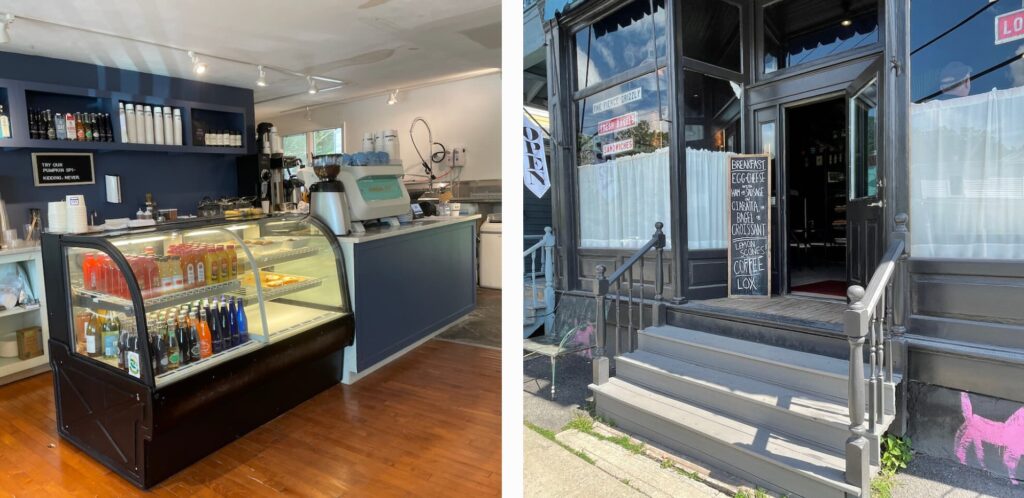 Only the daring opened businesses during a pandemic, and Watershed has gone from strength to strength, providing a daytime hub for the community. This trendy locale now serves breakfast, lunch, coffee and sinful baked goods, not to mention refreshing cocktails on its welcoming front porch. A cup of New York's Abbotsford Road coffee and fresh mountain air is about as good a way to start the day as we can think of, so join us here pronto.
53470 State Highway 30, Roxbury, 607.326.6336
Opened in late summer 2021, gourmet grocer and sandwich-erie that's perfect for stocking your fridge when you're in town; load up on imported cheeses, artisanal coffee, and more. Bagels with the works? Don't mind if we do. They also serve breakfast, lunch, and dinner, and that has been such a hit we think we'll see more in that department. Recent blackboard items: Reubens, soppressata, mozzarella, pesto on grilled focaccia, and salads too!
53530 State Route 30, Roxbury, 845.901.2351
With a more extensive menu than some of the smaller eateries, head here for lunch or dinner and choose from artisanal pizzas to steak to vegan options. And they make a heck of a Bloody Mary "Explosione" (with shrimp and bacon garnishes). In comfortable weather, the outdoor beer garden is a great spot to unwind after a busy day of excursions. Open seven days a week.
53535 State Route 30, Roxbury, 607.326.7020
Softly Open: The Old Mill has been given a facelift since coming under new management (the same owner as Chappie's above), cherishing a lot of the wonderful rustic features of having been a blacksmiths and a mill, and repurposing many of the antique finds they discovered in the building, like old boards for the back bar. As of September 2021 they are still finding their groove with scheduling, but aim to be open seven nights a week. While their food menu isn't on their site yet, their cocktails menu is, so we like it already.
2318 County Route 41, Roxbury, 607.326.6090


NOTABLE AREA ADDITIONS

For those of us who live here full time, we know that there are plenty of destinations worth the extra few minutes' drive. Here are a few of our favorites that are just a bit beyond Margaretville and Roxbury.

Peekamoose Restaurant & Tap Room
For a meal Manhattanite day tripper's dreams and epicurean fantasies are made of, make a reservation at the destination restaurant in Big Indian, 15 minutes from Margaretville. Marybeth and Devin Mills, the dynamic duo behind the spot, sharpened their skills at Gramercy Tavern, Michelin-rated Le Bernardin, the Hudson River Club, Picholine and Guastavino's, before opening this celebrated eatery with a dynamite ambience. Hugely popular for après-ski, it's about a seven-minute drive from Belleayre Mountain. Good thing you've got a place for postprandial recovery instead of trekking back to the city. Reservations are a must at this popular spot.
8373 State Route 28, Big Indian, 845.254.6500
Inspired by traditional colonial eating houses, where neighbors would gather to socialize, clink glasses, slurp broth and loosen a top button, Brushland Eating House brings all the comforts of home to the table in an atmosphere that exudes warmth. Sara and Sohail Zandi, the brains behind the operation, focus on extraordinarily good classics, leveraging local ingredients and serve up a culinary and dining experience that has generated mountains of rave reviews. 20 minutes from Margaretville.
1927 County Highway 6, Bovina Center, 607.832.4861
So much more than just a place to pick up bottles of great cider, Wayside is a destination. With two barns exuding an old world vibe and a long bar that beckons, you'll be charmed into lingering and to stay for their tasty eats. If live music is on, clear the calendar, it's where you want to be. About 15 minutes from Margaretville.
55 Redden Ln, Andes, 845.676.6002

FOOD + WINE MARKETS + SHOPS
Open 7 days a week, you'll want to stock up on supermarket basics here. It has a decent selection of everything, including fresh produce, and is right in the center of town.
36 Bridge St, Margaretville

Head to the gorgeous Round Barn and spend your Saturday exploring the selection of some of the Catskills' finest pasture-raised meats, trout, cheeses, breads as well as bedding plants for your garden and patio, jewelry, soaps, quilts, wool, wood products and more. Bring a big appetite and enjoy a farm fresh meal right at one of the many picnic tables. Pro tip: The early bird catches the most popular products which can sell out. Open mid-May to mid-October.
46676 State Highway 30, Halcottsville, (845) 586-3326
Set in a lovely red-trimmed country store, Sweet Pea Supply Co. is home to some of the best baked treats in the surrounding area. While you're in there satisfying your sweet tooth, stock up on their locally sourced supply of pantry staples and other prepared foods.
124 Bragg Hollow Rd, Halcottsville, NY 12438 (607) 326-6776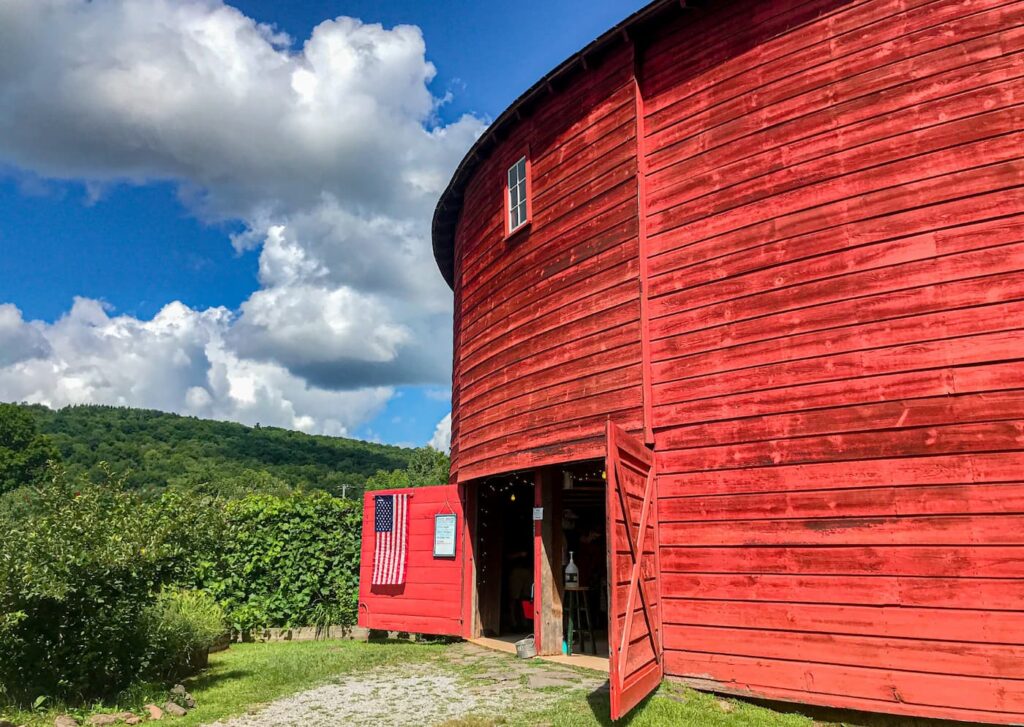 Maine Black Bear Seafood Restaurant
If you've got a hankering for seafood, head to Arkville, where tucked into an unprepossessing building you'd otherwise drive right by, is an under-the-radar seafood shop offering Maine lobster, swordfish, scallops, mussels, clams, haddock, tuna, shrimp, etc. by its legendary if slightly gruff proprietor Bruce. He'd been trucking fresh seafood from Maine to the area some 36 years ago when he decided to make the move and open the shop. Patrons embrace the somewhat eclectic surroundings and swear by the quality and freshness. Call for current hours of operation.
13 Riverside Drive, Arkville, 845.586.4004
If you're looking to fill out your vacation liquor cabinet (and grab a bottle or two to bring back to loved ones), this inviting wine shop offers a great experience right in the hamlet of charming Roxbury. Plan to chat with the owner and be introduced to your new favorite tipple.
53484 State Highway 30, Roxbury, 607.326.6200
Run by the same tireless folks who draw devotees northward to Brushland Eating (see above), Russell's has got you covered for an informal breakfast, brunch or lunch. Grab some staples, perhaps some penny candy, but definitely enjoy a sweet surprise with a slice of one of Magpies' scrumptious pies, or satisfy your savory craving with a pot pie hand crafted by the King of Pot Pies himself, Antonio Mora. You'll go for the Norman Rockwell-esque vibe, but leave singing its culinary praises.
2009 County Highway 6, Bovina Center, 607.832.4242

RETAIL THERAPY
Originally a purveyor of mostly wonderful housewares with a few gifty things (think large selection of cookware, knives, baking and cooking essentials, cookbooks, stationery, and candles), it has broadened its inventory to include the best of local farmers' produce and products, including fresh cheeses and baked goods, breads and other fresh irresistibles.
784 Main Street, Margaretville, 845.586.4177
Housed in the historic Commons Building, this marvelous, artist-run gallery is open on weekends, with exhibitions changing monthly. Expect the works from both professional artists from New York City and rural Empire State artists on display.
785 Main Street, Margaretville, 607.326.6936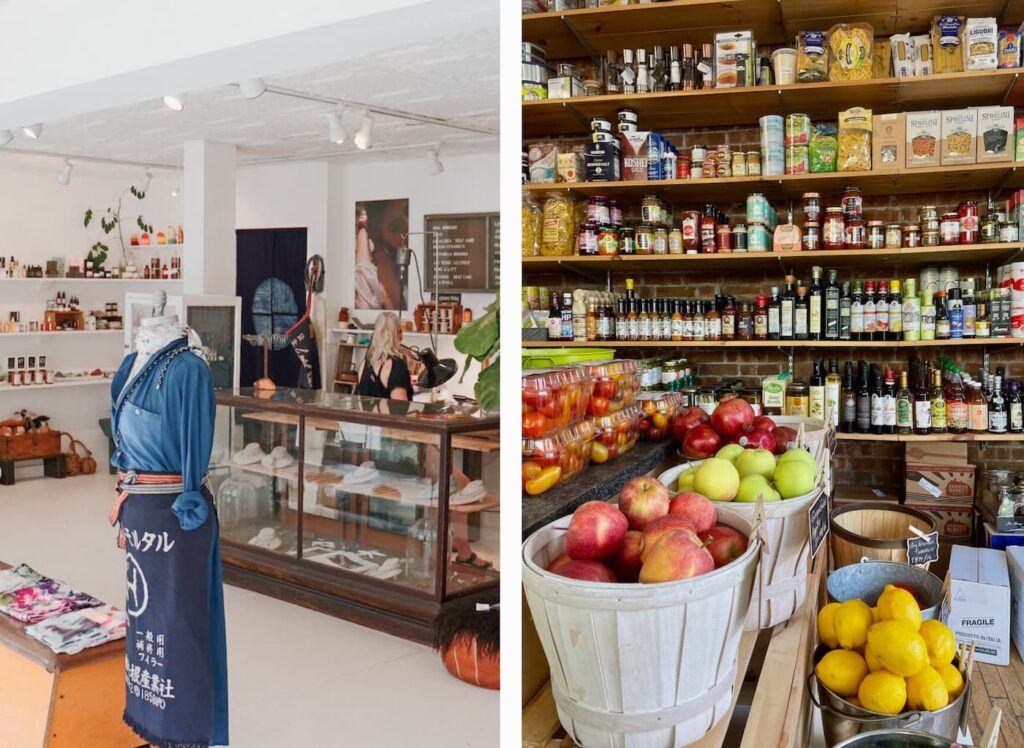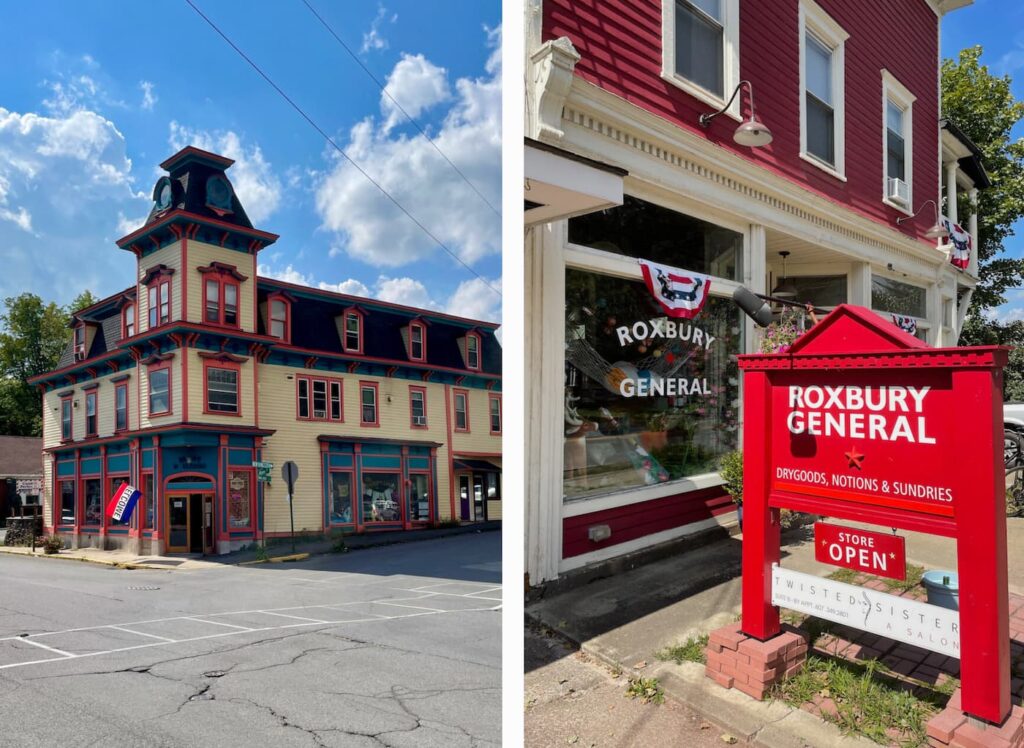 On any given visit to Kria, you might stumble upon a snail shell objet d'art or a mineral ice hand-dyed silk pillowcase, along with no shortage of dainty, eye-catching jewelry. The boutique was co-founded by Icelandic designer Jóhanna Methúsalemsdóttir and visual artist Paul Weil, and it's tucked inside the historic Galli-Curci Theatre on Main Street.
801 Main Street, Margaretville, 347.277.6917
Purveyors of an eclectic and appealing range of goods, from dreamy woven throws and sleek coffee table books, to fun barware, local jams and novelty throw pillows. This is a winning choice for grabbing a memento of your Upstate getaway.
53587 State Highway 30, Roxbury, 607.326.6118
Honeybee Herb Farm and Apothecary
This fine establishment has been cultivating medicinal herbs in the Catskills since 1999. Forget mass-produced junk, the apothecary specializes in growing food for their native honeybees, focusing on endangered species of forest plants. The anti-inflammatory healing salve is particularly fabulous after a few hours on the trails.
785 Main Street, Margaretville, 845.513.5411
Another newcomer for summer '21, you'll unearth natural history collectibles, dried flowers, one-of-a-kind jewelry, and more. Good luck leaving without a birthday gift for everyone on your list.
850 Main Street, Margaretville,845.586.6363
Margaretville Hospital Auxiliary Thrift Shop
If thrifting is your middle name, carve out some time to wander this selection of gently used and regularly rotating household items, clothing, shoes, textiles, books, and more. Bonus: You're supporting the local hospital and residential care center while you shop.
743 Main Street, Margaretville, 845.586.3737
WHAT TO DO AND SEE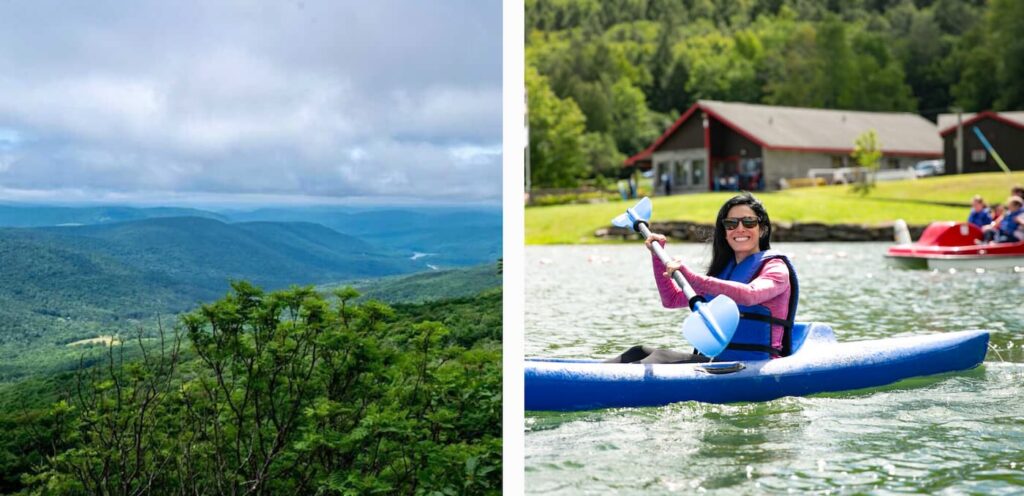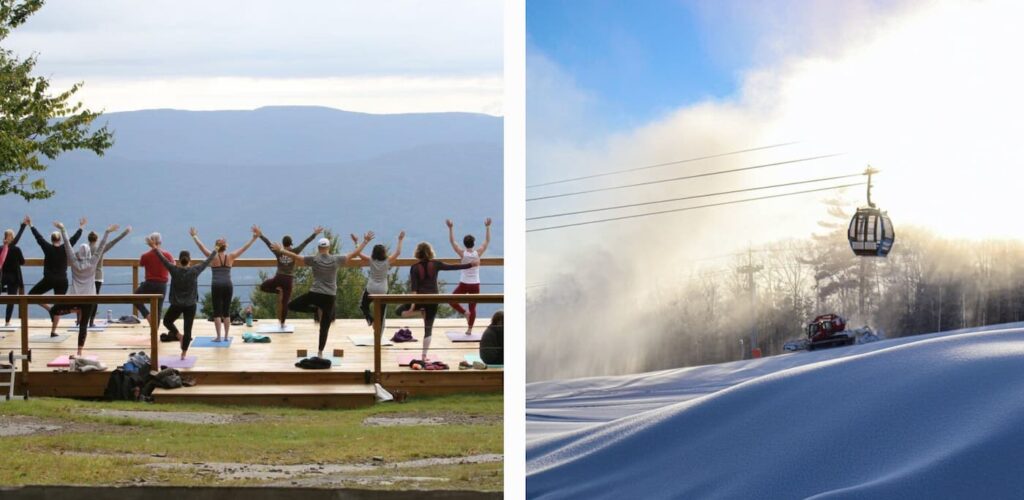 Above from top left clockwise: Dry Brook Ridge hiking trail, part of which is included in the Huckleberry Loop. Belleayre Mountain, known primarily for its skiing and family-friendly environment (bottom right), offers year round activities including swimming, kayaking and more at "Belleayre Beach" (top right). The Catskill Mountain Yoga Festival certainly has an extraordinary platform for connecting with nature in summer, perched as it is on Plattekill Mountain, a ski destination particularly popular with tree skiers, in Roxbury.
Photos clockwise from top left: Charlie and Jessica Duke; Belleayre Mountain; Catskill Mountain Yoga Festival.
In terms of attracting sheer numbers, the biggest draw to this region must be Belleayre Mountain in Highmount, just over 10 minutes from Margaretville, where around 150,000 skiers take to the slopes every year. While about the same drive time from the George Washington Bridge as larger mountains Hunter and Windham, the crowds are decidedly more manageable.
Cool off in Pine Hill Lake or laze on the beach at the base of Belleayre, the ski resort on its namesake mountain, about 10 minutes down the road from Margaretville. Kayaks and stand-up paddleboards are also available for rent. While you're there, you might also want to check out a scenic gondola ride and enjoy a picnic at the summit. (For more on area skiing, see our blog post Skiing in the Catskills and Hudson Valley.)
33 Friendship Manor Road, Pine Hill, 845.254.6195
Family-owned and operated, Plattekill Mountain in Roxbury is a cult favorite, especially for tree skiiers. Pro-tip: you can actually rent out the whole mountain on a weekday, and it won't cost an arm and a leg. (The mountain is otherwise open on weekends and holidays only.) In summer there is also a Zen-infused Catskill Mountain Yoga Festival with breathtaking views from the yoga platform. (For more on area skiing, see our blog post Skiing in the Catskills and Hudson Valley.)
Looking for a break from the crowds? This 12.5-mile, lightly-trafficked point-to-point trail runs from Margaretville to Balsam Lake Mountain, although the payoff views of the Pepacton Reservoir and valley to Andes are just 1.8-miles in. It's moderate in difficulty, so make sure you're prepared with the right shoes and plenty of water. Trail is open year round. To access, from Route 28 in Margaretville, go southeast on Fair Street, then left on Southside Spur. The trailhead is 0.1 mile on the right.
For more advanced hikers, venture to this 12.8-mile loop trail near Margaretville, which includes a segment of the above Dry Brook Ridge, and is rated as difficult. It's a very quiet route, so soak up the solitude.
If you've got a competitive streak, we recommend The Ark Bowl & BBQ, a funky, 120‐seat, refurbished 1960s eight-lane bowling alley, BBQ joint, saloon and music/entertainment venue all rolled into one. Loser buys dinner!
42366 State Route 28, Arkville, 845.586.2695
Kayaking and Cycling (and strolling) in Halcottsville
If water and a peaceful communing with nature is what you've really been craving, then head less than ten minutes out of Margaretville to the picturesque hamlet of Halcottsville and rent a kayak to paddle about Lake Wawaka or a bike to cycle a loop around it. It's such a great way to experience the area's beauty, and the chances are good that you'll spot an eagle or heron along the way. Once you've worked up an ample appetite, head to Roxbury for a coffee and sandwich at some of our picks above. (Due to Covid, rentals are temporarily closed, but those in the know take their daily constitutional around this largely level loop where there is little to no traffic.)
If you're on an extended hiatus to the Catskills, you don't need to give up your gym routine. In fact, it may be improved at the Catskill Recreation Center, a true gift to the area with an indoor pool and impressive gym. You may even meet a new friend or two in an aqua fitness class or crushing it on the weights floor. There are outdoor spin classes and kid-friendly programs too. As with all listings here, do check on Covid-related protocols. Day passes available.
51 County Highway 38, Arkville, 845.586.6250
It's time to celebrate the brassica family of veggies, and the culture and incredible farming heritage of this special region at this annual festival held in September.
Village Park (behind Freshtown), Bridge Street, Margaretville