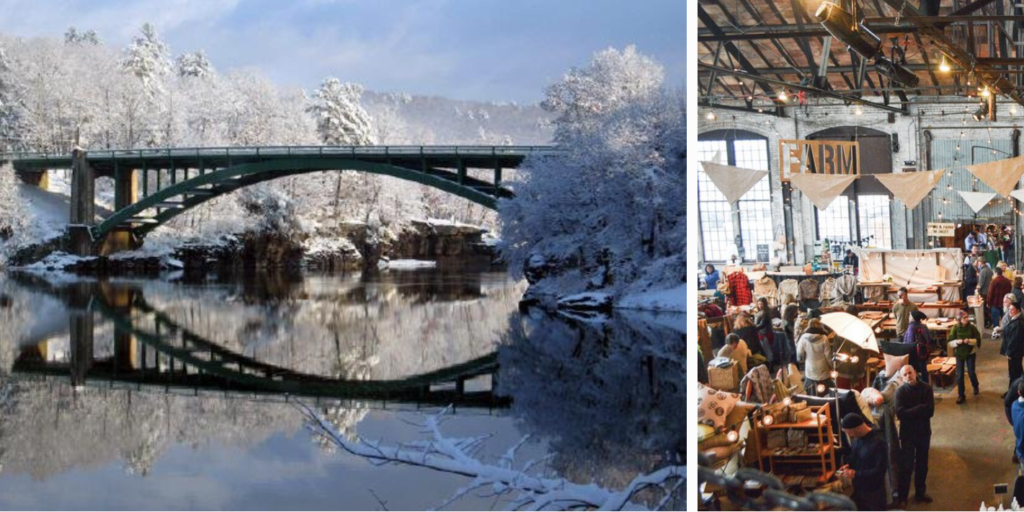 There's no shortage of dreamy and picturesque towns in The Catskills and Hudson Valley. In Rhinebeck, holiday decorations adorn the charming local shops and restaurants. And in Andes, you can explore holiday markets filled with local goodies and handmade gifts. Another option is the charming town of Narrowsburg where you can experience a holiday festival filled with regional food and drinks. And don't forget about Stone Ridge where the historic stone homes offer holiday cheer. Whether you're searching for holiday markets or delightful decorations, these towns have it all. So pack your bags and head to one of these quaint destinations for a holiday getaway you won't forget.
The Christmas season is packed with plenty of things to do, including visiting festive markets where you can pick up unique gifts and treats. Support local businesses and check out the numerous shopping opportunities throughout the region. Get in the spirit by attending a tree lighting ceremony, or partake in some classic holiday traditions like caroling or ice skating. And those are just a few options – this area offers countless events and attractions for you to experience during the most wonderful time of the year. So grab your hot cocoa and bundle up for some fun holiday activities!
Upstate New York may be known for its natural beauty year-round, but have you experienced its winter splendor? Snow blankets the rolling hills and glistening lakes, transforming the landscape into a true winter wonderland. Whether you prefer to hit the slopes for some skiing or snowboarding, strap on some snowshoes for a peaceful trek, or glide across frozen lakes for some ice skating, Upstate NY has it all. And when the snow flurry subsides and the sun sets, curl up by crackling fireplaces and warm cups of hot cocoa – hygge at its finest!
Spend the holidays in one of Red Cottage's luxury rentals. From cozy fireplaces to sprawling chalets and rustic cabins, there's a perfect luxe home to suit any type of traveler. Imagine being surrounded by snowfall in a cozy lodge, or watching the stars beside a crackling fire in a cabin tucked away in the mountains. These homes offer an intimate and unique experience that can't be found in traditional accommodations. So skip the impersonal hotels and treat yourself to a luxurious stay in one of our stunning homes.
5. Ease of Travel
Are you dreading the holiday travel season with long lines at the airport and stressful flights? Avoid the headaches and opt for a car ride instead, especially if your destination is within a few hundred miles. Not only will you avoid the hectic airport crowd, but there are also countless scenic routes that make for a more enjoyable journey. Bundle up in some cozy blankets and hot cocoa, listen to holiday music, or simply enjoy conversing with loved ones as you cruise towards your final destination. So this year, avoid the holidays at the airport and join us in Upstate NY!