Morning dew casts a blurry, dreamy glow across a sky-high window as you gaze at the hills over yonder, bursting with warm-toned trees creating soft bunches of striking yellow-orange hues. Autumn has arrived — and it's the perfect time to see the best views of fall foliage in New York State's Catskill Mountains.
We're lucky enough to enjoy daily views of Upstate New York's fall foliage at many of our properties but of course, our mountain homes, hillside cottages, and regal manors aren't the only places to see the show-stopping foliage!
Check out our insider scoop to experience fall foliage from the area's most impressive lookout points, scenic drives, and quaint towns.
Spring Farm Trailhead
A popular trail in the Mohonk nature preserve, the Spring Farm Trailhead offers "million-dollar views" of the Catskill Mountains. This well-marked trail makes it a safe and accessible option for groups with kids or elderly folks.
You'll start by walking through a green open field before entering the forest for a gradual hike totaling 3 miles. At the top of the ridge, you'll marvel at unparalleled views of the Catskills from your very own personal clifftop. Travelers enjoy this viewpoint for its relative accessibility and dynamic terrain, which includes flat, grassy land, a little bog, wooded areas, and rocky formations.
Hunter Mountain Scenic Ski Lift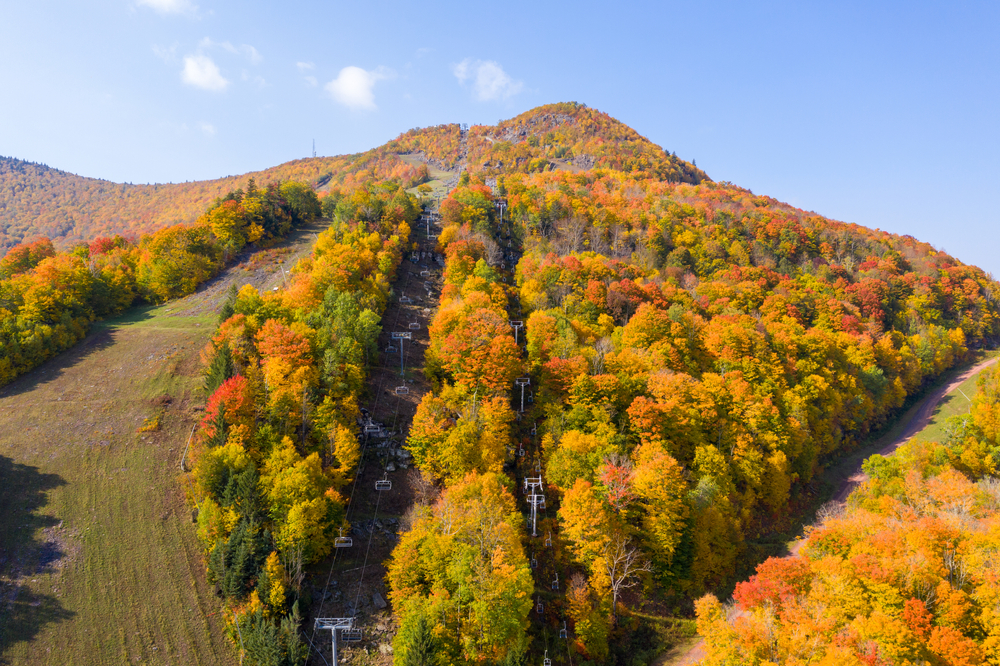 Remember going on ski lifts on your high school ski trips? Imagine that same experience minus the snow and skiing, with an additional marvelous view of the Catskill Mountains. Yes, please!
From July 1st each year, summer and autumn travelers can take the Hunter Mountain lift up the towering, 3,200-foot mountain. After 11 minutes cruising in the air, you'll reach the mountaintop and relish incredible views of the fall foliage, specifically of the Northern Catskill Mountains, Vermont's Green Mountains, and the Berkshires of Massachusetts.
Catskill Mountains Scenic Byway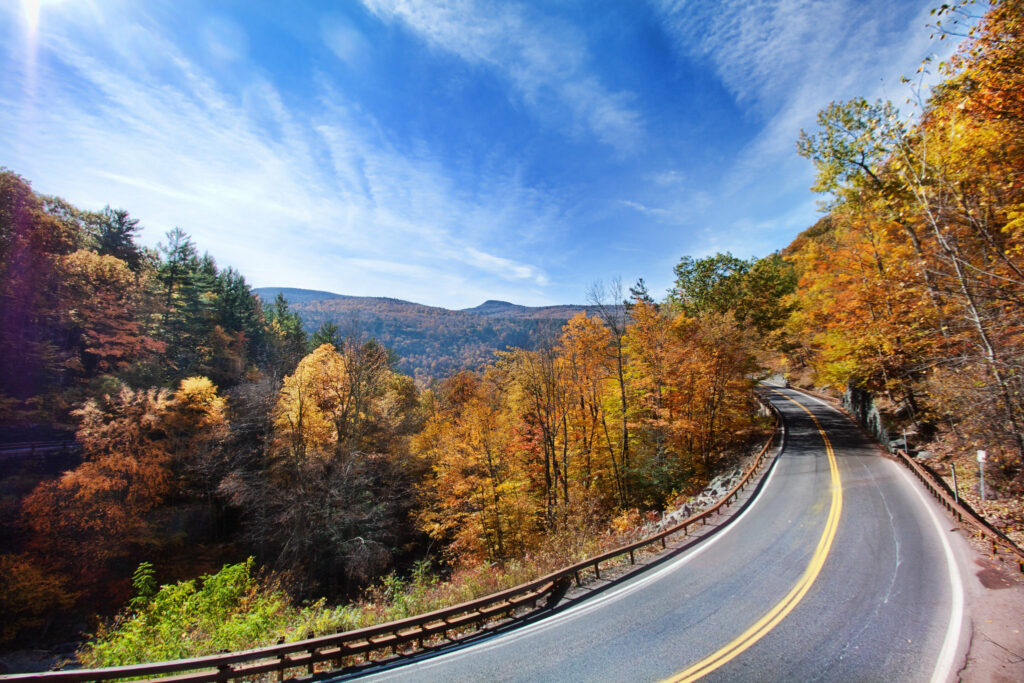 Not a fan of heights? You can still relish memorable views of the Catskills from the comfort of your own car. The Catskill Mountain Scenic Byway stretches over 50 miles, mainly on Route 28. You'll wind through the mountains and see charming forest views at every turn. Moreover, the route spans four towns with their charm: Shandaken, Middletown, Andes, and Olive.
Why not stop by Middletown's Oak & Reed for a lunch break? Try their fish and chips or, even better, the buttermilk fried chicken. You'll feel well-fueled and ready to continue your journey through the Catskill foliage.
Town of Phoenicia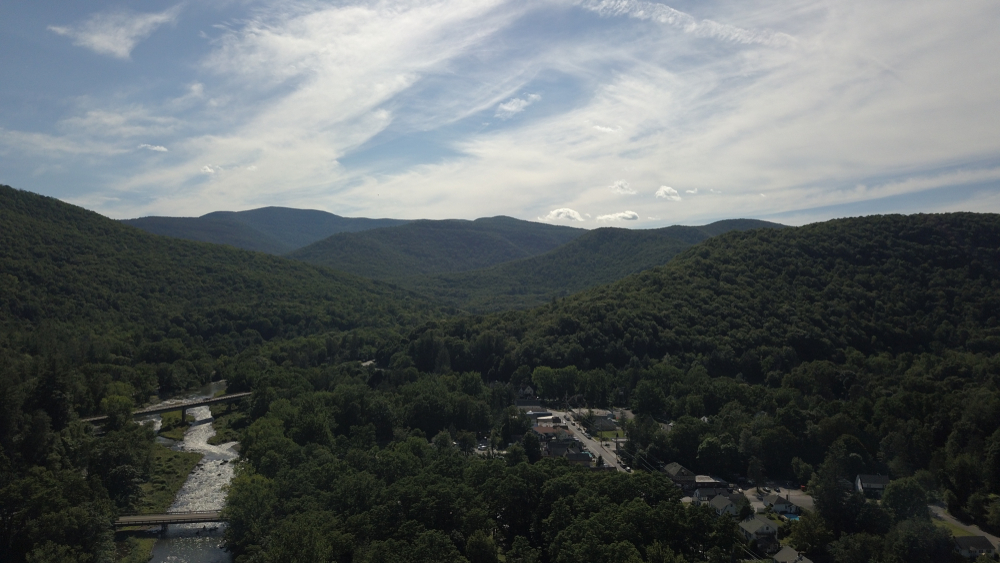 Nestled between two deep valleys in the Catskills, the Town of Phoenicia is an adorable, unique small town to visit on your Catskill vacation. A nice bonus? Uninterrupted views of the fall foliage from basically every point, whether you're standing outside a local artisan shop or driving through the town's main streets.:
Red Cottage hosts rental properties just a short drive away in the nearby town of Woodstock.
Walnut Mountain Park
Picture the early sun shining, peaking through the peppered gaps of the trees, or the gentle gap separating a wooden bridge from the towering branches above. You'll feel like you're in a fairy woodland walking through Walnut Mountain Park, with plenty of breathing space and open fields in between.
The 265-acre park invites people of all ages (plus your leashed furry friends) to enjoy its daily-friendly playgrounds, picnic tables, and colorful trails that display the most beautiful fall hues. Grab some staples from a nearby farmers market and enjoy a picnic with the family as you take in the sights!
Escarpment Trail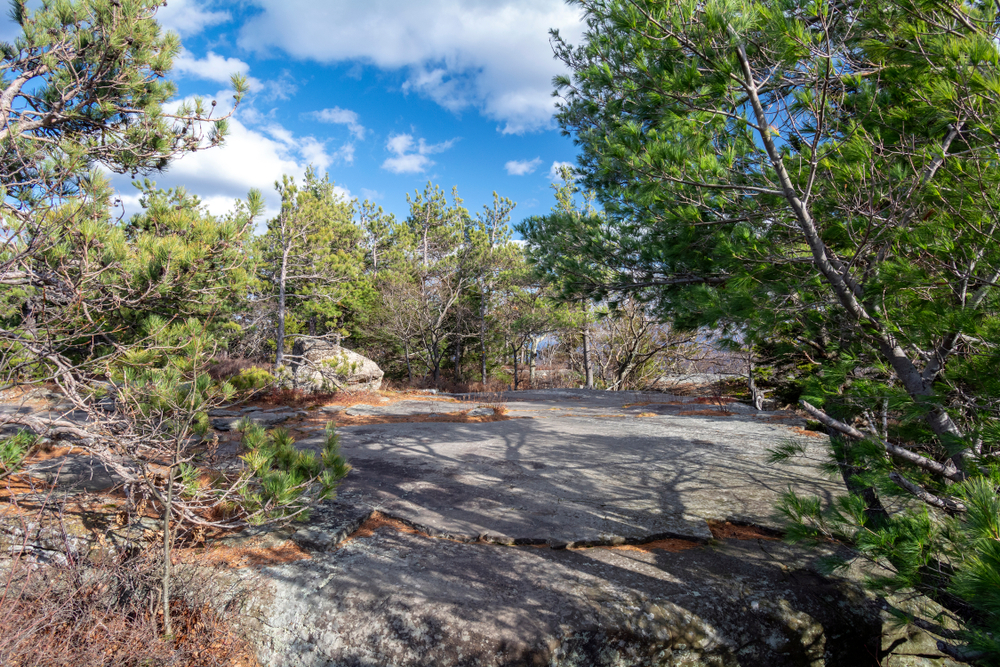 Sitting at the Northeastern portion of the Catskill Mountains, the town of Windham is the starting point for the Escarpment Trail. It stretches about 22 miles, but the gorgeous Catskill mountain views don't come easy. Most travelers find this Greene County trail incredibly steep and challenging — but the Hudson River Valley views are once-in-a-lifetime.
Leaf peeping season lasts from September to November, but October is prime time for making the most of each viewpoint. Something about the pumpkin harvest and Halloween vibes makes each orange shade stand out more!
Hamlet of Boiceville
Nestled in the small town of Olive, Bouiceville is a picturesque hamlet that gifts passersby with gorgeous views of the rolling Catskill Mountains and parallel Esopus Creek. Enjoy the views on a day of driving, or stop along the way for camera shots that you just can't access from your daily wanderings.
And if your legs are asleep from all the driving? You're never far from hiking trails, and in this case, your trail of choice is the Boiceville Bridge Trailhead within the Ashokan Rail Trail. This flat trail is accessible to beginner adventurers on foot or via biking. The flat land gives you uninterrupted vistas of each Catskill hill standing tall and magnificent alongside one another against the sky's backdrop — stunning.
Left Bank Ciders
Maybe you're not among the most enthusiastic hikers, especially on vacation. But that's okay — you can still indulge in fall foliage views without getting up from your seat.
Nothing says autumn like a warm cup of apple cider, and there are many delectable cideries and breweries in the Catskill region. A personal favorite? Left Bank Ciders, based in the town of Catskill. Each cider is blessed with flavors from fruits from local farmers' markets, and you can experience that groundedness in the fall with its annual fermentation festival.
As for the views of the fall foliage? All you need to do is sit on the patio. Relish the expansive views of the landscape with plenty of shaded trees to feast your eyes on.
Marvel at the Catskills Fall Foliage
The best vistas for New York fall foliage are right here in the Catskills, and a vacation rental from Red Cottage gives you ample opportunity to take in the scenery at your leisure. Whether gazing at the mountains from your cottage porch or cruising through a scenic byway, you're always a short distance away from some of the state's most impressive fall views. Ready to indulge in a vacation of peacefulness, beauty, and luxurious comfort? We'd be delighted to host you. Book a Catskill Mountain vacation today!