Upstate New York blesses locals and visitors with a taste of the ethereal — the lush, tree-filled hills in the Catskills Mountains invite you to explore every ridge and valley through wildlife sightings and peaceful hiking trails.
As you progress on a hike, you might feel the fresh air envelop your body. The sound of water rushing echoes through the trees, drawing you closer to the piece de resistance of the Catskills Mountains: the plentiful waterfalls.
One look is enough to feel cleansed and released from your day's stresses and anxieties as the ever-swooshing water mimics the constant flow of energy that moves us through the waves of life.
Sounds like the perfect getaway or romantic escape from your day-to-day hustle. You can experience these waterfalls at your leisure if you stay at one of our luxurious yet cozy Catskill vacation home rentals. We'll walk you through our favorite waterfalls in the region, plus the unique characteristics of each one.

1. Kaaterskill Falls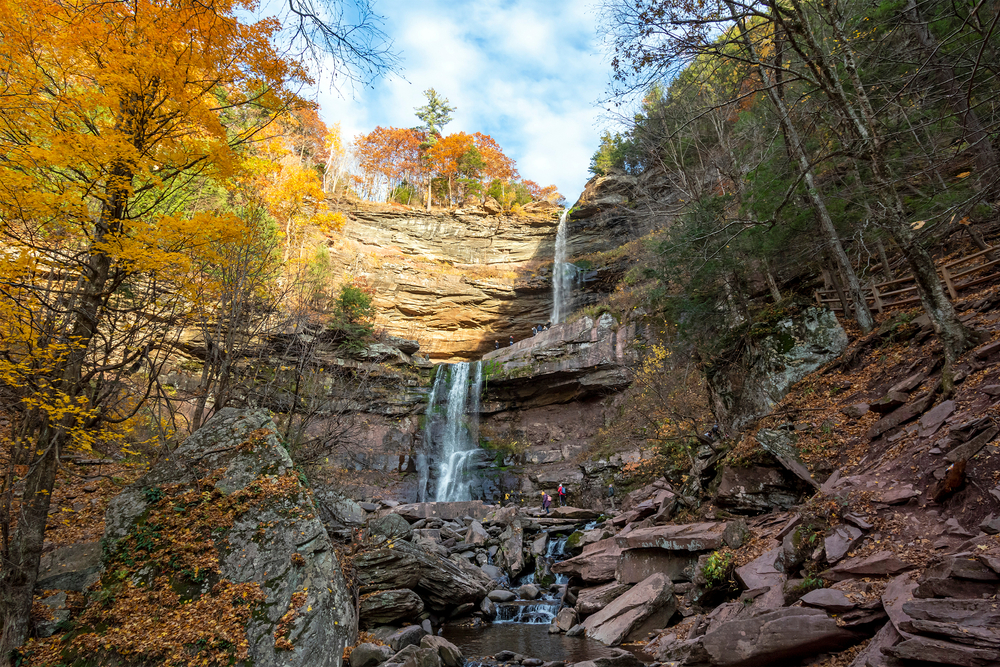 Location: Kaaterskill Falls, Hunter, NY
Notable feature: Double cascade or two-tier waterfall.
Ever thought you'd witness Eastern New York's tallest waterfalls? Enjoy the 260 feet of Kaaterskill Falls in Greene County, which separates into two dreamy cascades (a two-stage waterfall).
You can take a lovely waterfall hike down an impressive 300 feet to the base of the falls (or up if you're looking for a workout), but remember to pack the right hiking gear. The Visitor Center also cautions against going off trail, as rustic, exposed rock and loose soil are a pretty sight for the eyes but dangerous to maneuver.
The sumptuous layering of rocks against the backdrop of the airy waterfall and rich greenery is enough to calm even the most stressed-out souls.
Take a moderate 0.6-mile hike up to the viewing platform and absorb the sight that inspired many 19th-century paintings and poetry. Or, hike down to the second level for a dip in the refreshing water body that touches the falls!
2. Old Mill Falls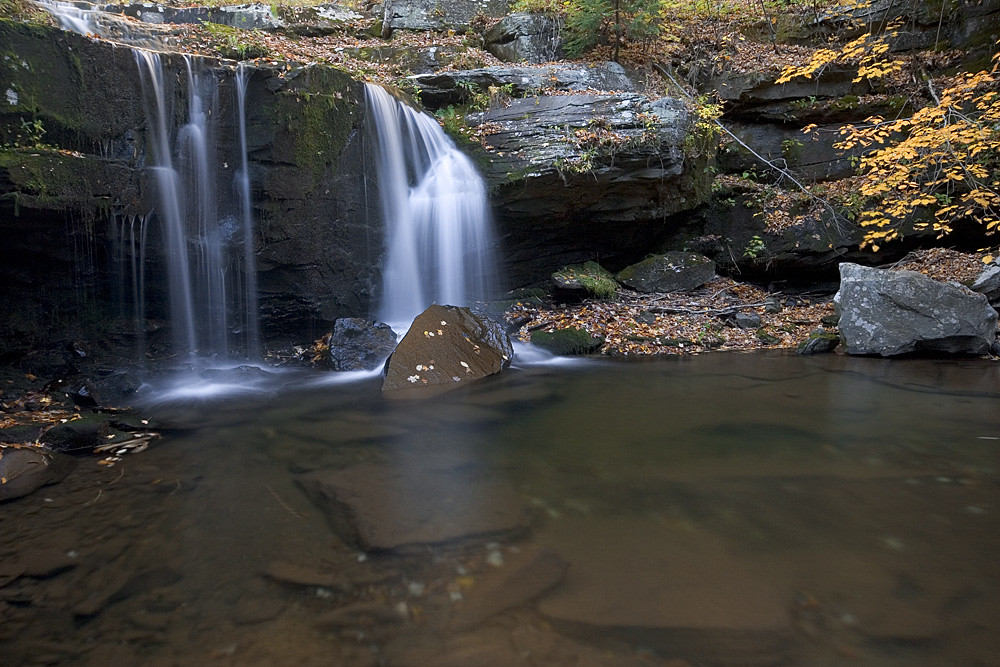 Location: Old Mill Falls, Hunter, NY
Best for: Intimate hikes, fewer crowds.
Planning a trip to the historic and rugged Platte Cove? This natural wonder spans 208 acres and boasts a number of gorgeous waterfalls. The first? Old Mill Falls is named after the old flour mill that used to sit at the falls' base.
Tucked away in the heart of the Catskill Mountains, Old Mill Falls is best seen in the spring or after a heavy rain, when its cascades flow with full force and leave behind an angelic veil of mist overtop the water. Plus, it's an easy trip if you're traveling with young ones since the trek isn't too long or steep. Beginner hikers, rejoice!
Unlike other popular scenic waterfalls that can be bustling with visitors, Plattekill Falls offers a peaceful escape where you can fully appreciate the serenity of the natural world.
3. Artist Falls
Location: Artist Falls, Keene, NY
Notable feature: Artist Falls is an easy 2-3 minute walk from the parking lot.
Artist Falls cascades gracefully over moss-covered rocks down a 25-foot drop into pristine waters.
Perched just above the falls is the historic Alfred Clark Covered Bridge, a landmark that bridges the gap between the past and present. Its weathered wooden structure is a testament to a long-gone era, bringing on a sense of nostalgia and inviting visitors to stroll through time. Talk about rustic!
All viewing points are fairly easy to access; a few minutes walk from the parking areas. Kids will enjoy an outdoor pool, while history buffs will relish the 1800s sawmill at the end of the path at the base of the falls.
4. Vernooy Kill Falls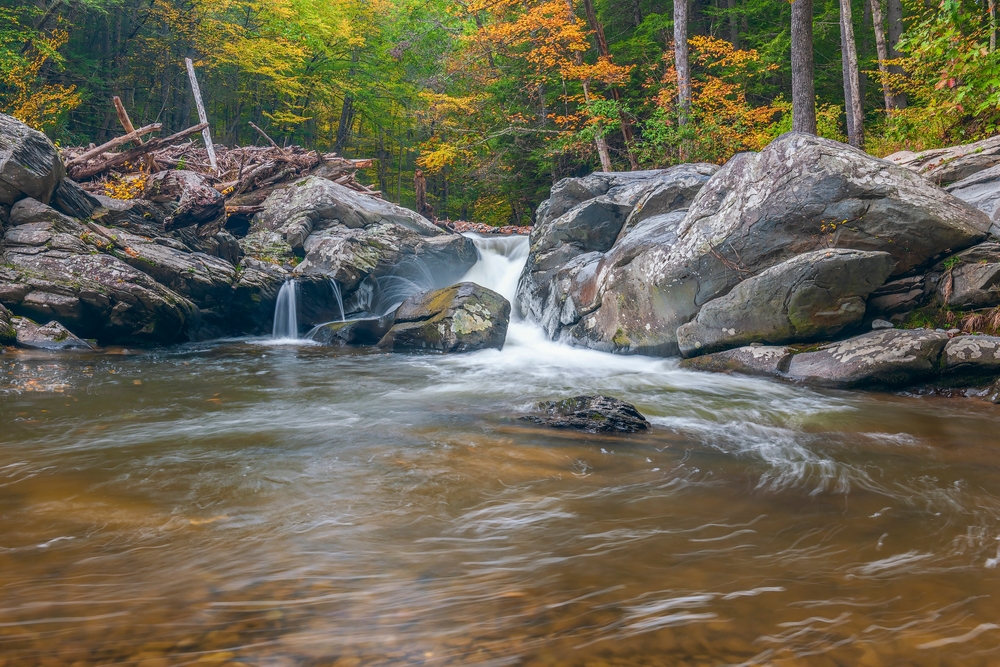 Location: Vernooy Kill State Forest, 561 Rogue Harbor Rd, Kerhonkson, NY
Notable features: Long-ish hike and dreamy, multiple-tiered falls.
Looking for a New York state park to sink your adventurous teeth into? Take a day trip to Vernooy Kill Forest, featuring a tucked-away 49-foot waterfall: Vernooy Kill Falls.
Rolling, verdant, and dancing with intrigue and mystique, Vernooy Kill Falls sweeps you into another world with its many subtle tiers. But to reach this utopian nugget of nature, you'll have to take a moderately challenging and rocky 3.5-mile hike along the Vernooy Falls Trail, which should take you an hour and a half to complete.
A word of caution — this region is well-known as the home of many Timber rattlesnakes.
5. Plattekill Falls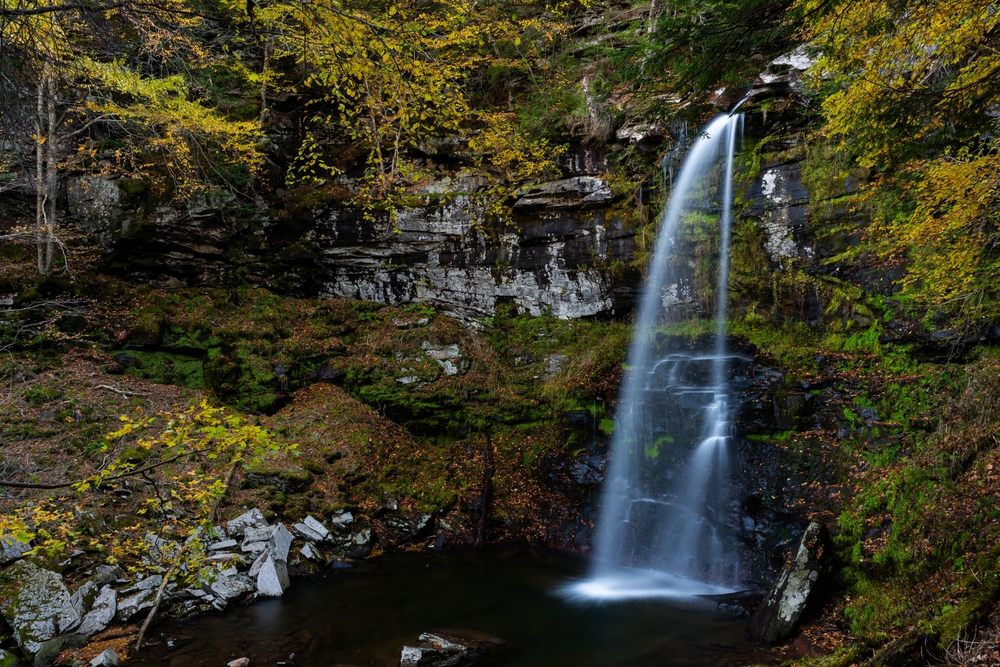 Location: Platte Clove Preserve, Catskill Center, Platte Clove Rd, Elka Park, NY
Best for: Intermediate hikers.
The Platte Clove Preserve is known for the dreamy Plattekill Falls, accessible via a ⅓-mile hiking trail that starts at an information center. Adventurers, to the front! You'll need to traverse narrow paths and downward slopes to reach the Plattekill Falls, so we'd recommend strong hiking shoes.
Don't worry about the sweat building under your shirt. The majestic views will be so worth it. Surrounding lush greenery provides a stunning backdrop, enhancing the falls' allure and feelings of peace. The only downside? No swimming allowed.
6. Bastion Falls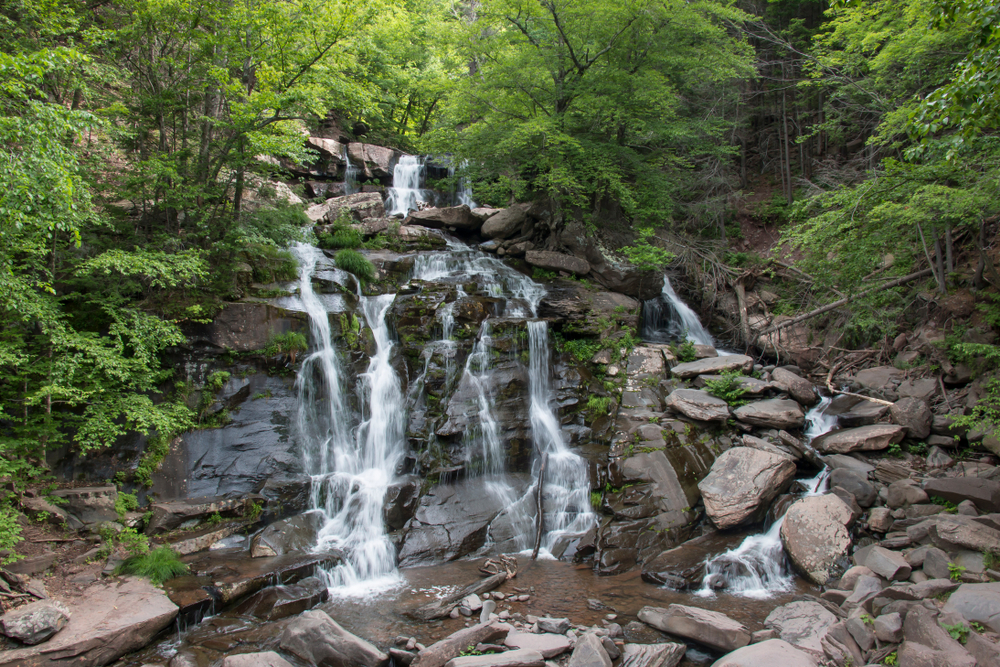 Location: Bastion Falls, Haines Falls, NY
Best for: History buffs and beginner hikers.
Bastion Falls stands as a breathtaking testament to the raw beauty of nature. Although you can easily catch glimpses of this beautiful 70-foot waterfall while driving on Route 23A, you can't park and take your time to watch while on the road. Instead, you'll have to park at the Laurel House Road parking lot and hike to this area from the top of Kaaterskill Falls.
Don't worry; at a mere half-hour trek, it's a beginner-friendly hike. But you can also access the Kaaterskill Trolley for a budget-friendly $10 ride.
We highly suggest packing two waterfall trips in one day, as you can easily pass over to the Kaaterskill Falls after finishing Bastion Falls.
7. Awosting Falls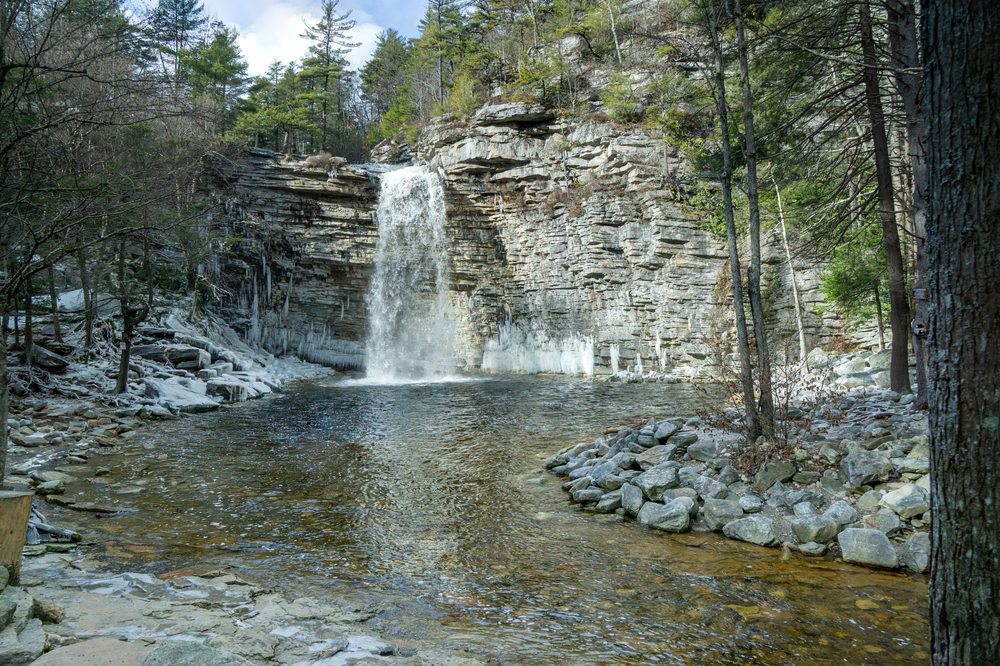 Location: Minnewaska State Park Preserve, 5281 Route 44-55, Kerhonkson, NY
Notable features: Small pool and grand views.
Awosting Falls is a natural masterpiece that beckons visitors with its sheer beauty and size. Located in Lake Minnewaska State Park Preserve, Awosting Falls is the park's biggest waterfall, flowing down a steep 65 feet. Sit at the base of the falls to get the best view of its grandeur.
A nice plus? Couples, families, and friends can all enjoy a refreshing dip in the small pool.
While there is a handicapped parking area, the accessibility of the trail for someone in a wheelchair may be difficult due to the trail's steepness, which spans about 1.2 miles.
Relish the Catskills' Waterfalls at Your Red Cottage Rental!
From the grand, awe-inspiring Kaaterskill Falls to the intimate and enchanting Artist Waterfall, the Catskills boast some of the country's most gorgeous natural wonders.
This is the perfect destination for nature lovers, adventure seekers, and those with an eye for beauty. Forget the stressful hustle-bustle of Manhattan — indulge in the more peaceful, rustic northern part of the state that channels serenity and calmness in every trailhead and waterfall. And once you're finished taking in the best views of each waterfall? It's time to relax and unwind at your secluded escape to a Red Cottage property. We offer the perfect sanctuary for travelers to the Catskills region, featuring stone fireplaces, private villas, outdoor pools, and access to swimming holes in nearby creeks.