Want to break up the long, dark winter by grabbing your Honey and heading for the hills? Here's the low-down on what to do and where to stay for a romantic weekend getaway north of NYC this Valentine's Day.
It's cold and probably snowy. If the notion of cuddling up in a toasty cabin by a roaring fire is your antidote to the winter blues, check out Tamarack House (Beech Lake, PA) and its striking modern design. With walls of glass overlooking the forest, snowfall will give off the feeling of being in your very own romantic snow globe. Neighboring Narrowsburg has a ton to offer in terms of dining and shopping, making it the ideal weekend escape. On the other side of the river is an equally appealing modern escape, Black Ridge Cabin (Narrowsburg), tucked into the woodlands outside of town. Wake up to blissful quiet in this modern house on an old country road.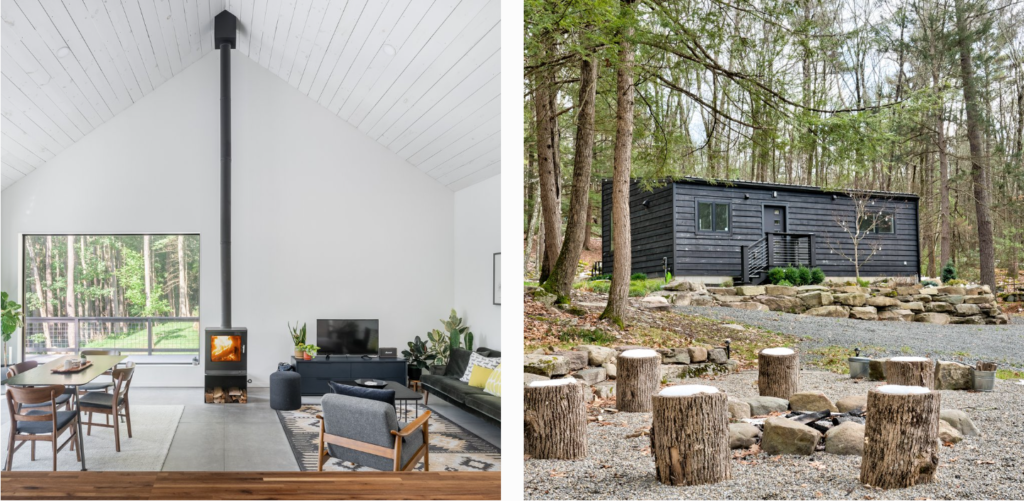 Tamarack House, Beech Lake, Black Ridge Cabin, Narrowsburg
A stone's throw from the center of Hudson, Rusty Ridge has been a Red Cottage favorite, with its striking contemporary architecture and proximity to all the best in the city. If you're looking for something nearby with a bit more seclusion (and mountain views), check out Hudson Hill House. Blue Quill Cabin (Claryville) is your honest-to-goodness cabin in the woods, with a stone fireplace, and views of the Neversink River you can enjoy without leaving your toasty bed. If hot tubbing under the stars is your thing, there are numerous options. Check out Wildcat Mountain Cabin (Claryville) and Scott Brook Cabin (Neversink), both privately set in lovely natural surroundings.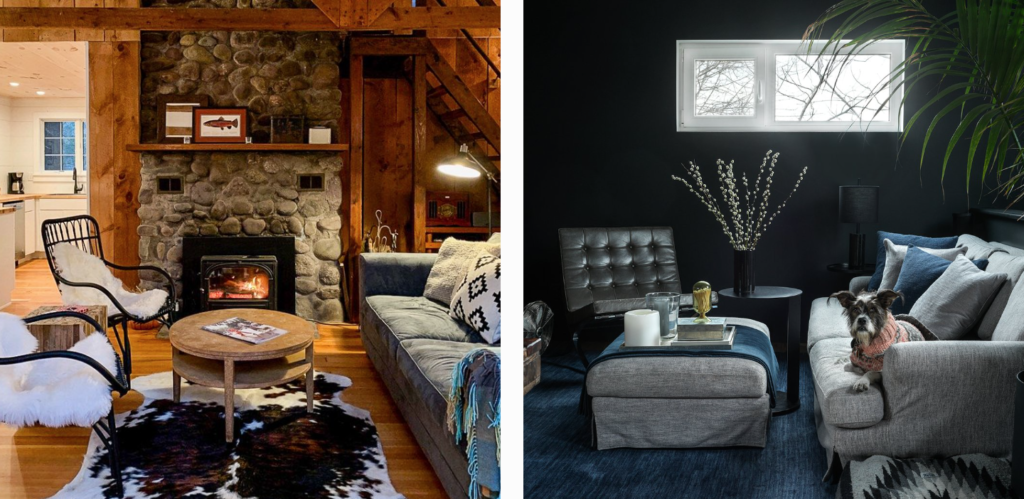 Blue Quill Cabin, Claryville, Rusty Ridge, Hudson
For adventurous couples, we have a few great options that deliver cozy romance while also being close to skiing and snowboarding. Shipley Cottage, a charming old farmhouse, is just minutes from Windham. After settling in here, you may pass up on your plans altogether. Le Petit Cottage (Saugerties) is another charming and cozy farmhouse central to the best dining in Woodstock and Saugerties, but also under 30 minutes to Hunter Mountain. If you prefer to get off the beaten path, Perch Lake Farm (Andes) is a stunner of a home set on 300+ (yes, 300) acres. Nearby Plattekill Mountain is usually a bit less crowded with just as stunning views, if you plan ahead revered Bovina Fermentory and Brushland Eating House are the ideal Valentine's dinner spot.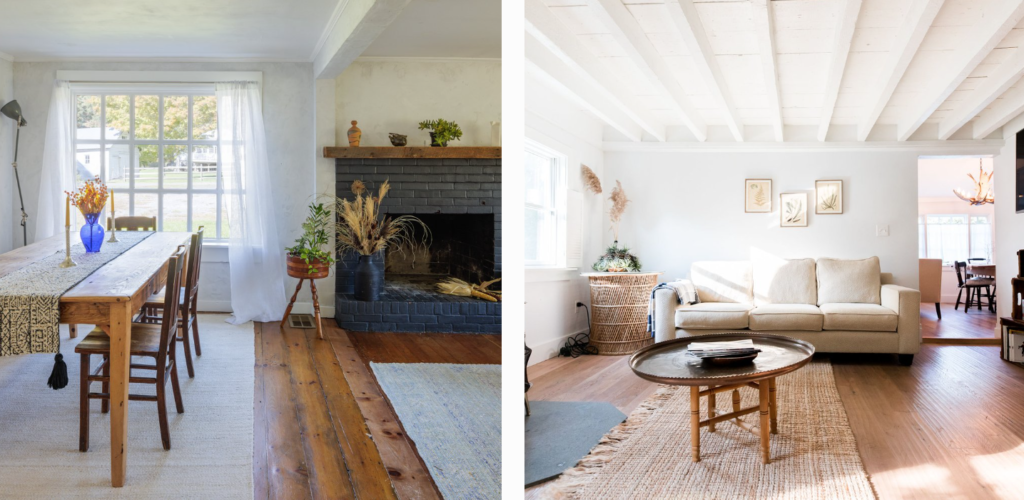 Shipley Cottage, Durham, Le Petit Cottage, Saugerties
Table for Two
For some couples, dimming the lights, pouring wine, and preparing a meal together is the relaxed setting in which they best reconnect, following a rigorous work week. But for others, stepping out and exploring the local dining and drinking establishments is how they'd like to spend their date night. So here we've selected a few of our favorite spots, when it's just the two of you.
The chef/owners of Peekamoose Restaurant & Tap Room (Big Indian) bring their weighty NYC restaurant pedigrees north to be closer to the farms that supply them, and serve up delicious fare in a buzzing atmosphere (a great place for aprés ski, if you've just come off the slopes at Belleayre). Do make reservations.
While the award-winning tasting menu upstairs has hogged the limelight, the roaring fire and the "downstairs tavern" vibe in the Club Room at The DeBruce (Livingston Manor) set the stage for an intimate and tasty meal from their locally-sourced menu.
In Woodstock, Silvia wows with an open kitchen and wood-fired grill. The menu is exciting and food fabulous, and you can stroll the town afterward, peeking in the various shop windows. We're partial to the green velvet banquette for a lovey-dovey vibe. Brunette Winebar, about 20 minutes east in Kingston, is a triumph of meticulous styling in a whitewashed former barbershop, where small café tables mean you'll be up close and personal, which is what your romantic weekend Upstate is all about.