When you visit the breweries, bakeries, and wineries in Hudson Valley, you'll likely notice the picturesque farmland, creative food scene, and carefree ambiance. But did you know Hudson Valley is home to some of America's oldest wineries?
While it's true that some of these wineries have their stories deeply rooted in America's history, many of them are new and offer a youthful take on New York's wine scene.
So, whether you're a lover of American history, a student of wine, or a thirsty novice, you're guaranteed to love the Hudson Valley wine scene. A stay amongst the Hudson Valley vineyards is the perfect pairing for your Red Cottage getaway. You'll be minutes from these premiere vineyards when you stay at one of our rental homes. In short, this is the ideal place for a friend's weekend or a romantic getaway. 
About Wineries in the Hudson Valley
Hudson Valley's history as a wine region began in the 1600s when the Hudson River became the first major waterway of the New World. This helped put New York City on the map, eventually attracting farmers and increasing agriculture. When farmers realized they could make more money selling wine, many transitioned to owning vineyards.
Much of the region's success in growing wine comes down to its location. Its proximity to the river and surrounding hills creates a microclimate that keeps the weather consistent and allows popular varietals such as Cabernet Franc, Chardonnay, and Riesling to flourish.
In addition, many hybrid varietals have come out of this region, such as Baco Noir, Seyval Blanc, and Vignoles. These varietals are bred between American and French grapes to make wines uniquely able to grow in New York's climate.
Millbrook Vineyards & Winery
What to sip: Tocai Friulano, a Sauvignon Vert
Address: 26 Wing Road, Millbrook, NY
Established on an old dairy farm in 1982, Millbrook Vineyards & Winery is proud to produce some of Hudson Valley's most award-winning wines. Millbrook was the first winery in Hudson Valley to dedicate the entire vineyard to solely vinifera grapes. To date, they're making some of the Valley's best Cabernet Franc, Chardonnay, Pinot Noir, and Riesling.
Wine tastings are conducted in the restored Dutch barn or outside overlooking the vineyard. Guided tours are offered on the weekends. They also have picnic tables available on a first-come, first-serve basis, where you can either bring your own picnic lunch or utilize their food service on the weekdays.
Brotherhood Winery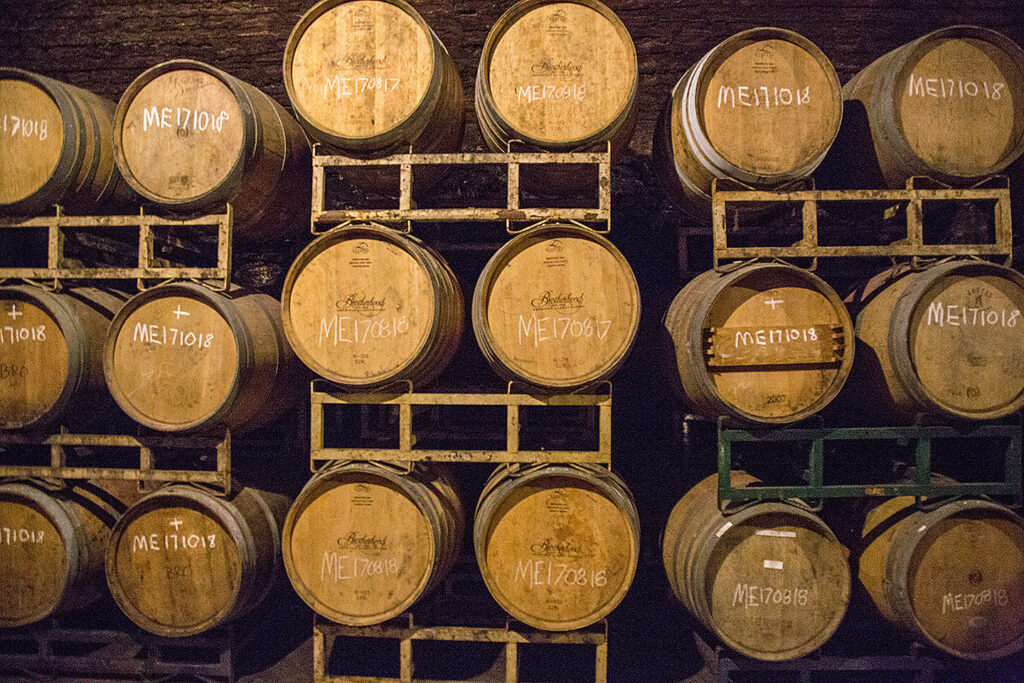 What to sip: Red Sangria
Address: 100 Brotherhood Plaza Dr, Washingtonville, NY
Located in Washingtonville, Brotherhood Winery is proud to be the oldest winery in the United States. Established in 1839 by the former cobbler turned winemaker, John Jaques, he began selling wine at the local markets using the native species that grew in New York. Today, Brotherhood is proud to produce dry red wines, white wines, rosé, sweet dessert wines, fruit wines, and sangria.
Brotherhood offers daily wine tastings, public tours, and guided tastings at their property. Reservations are recommended for the guided tasting, which includes a deep dive into the depths of their underground wine cellars.
Benmarl Winery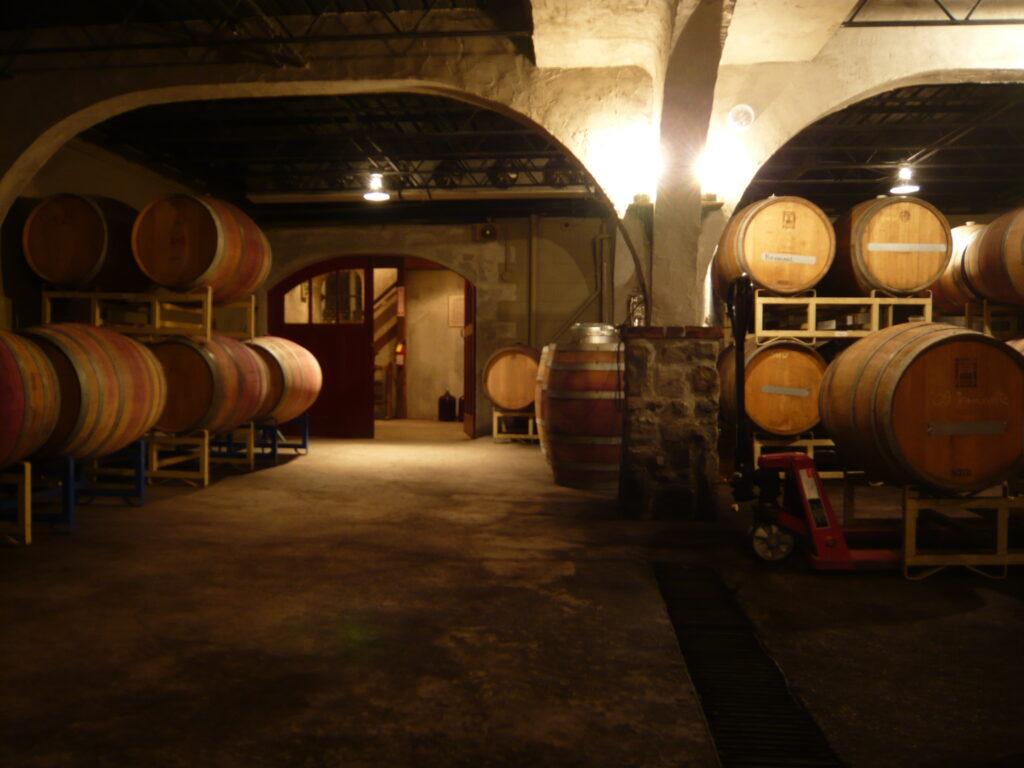 What to sip: Proprietors Reserve, a red blend
Address: 156 Highland Ave, Marlboro, NY
While Brotherhood Winery may lay claim as the oldest winery in the US, nestled within the rolling green hilltops of Marlboro, you'll find America's oldest vineyard. Benmarl Winery hosts vines dating back to the 1700s. 
Today, Benmarl sits on a 37-acre estate that overlooks the entirety of the Hudson River Valley. Their premiere wines include Cabernet Franc, Riesling, Chardonnay, and Merlot.
Guests can make a reservation to enjoy a wine tasting outside, overlooking the property. Benmarl also hosts events throughout the seasons, including their spring barrel tasting and summer sangria party.
Whitecliff Vineyard & Winery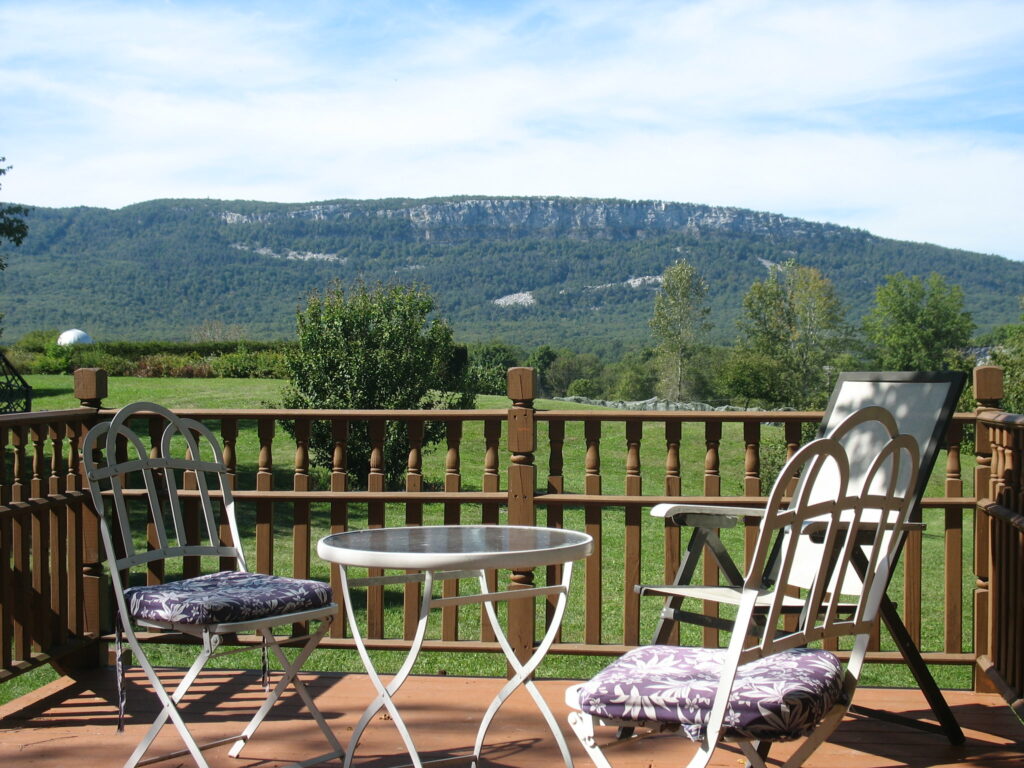 What to sip: Awosting White, a semi-dry white blend
Address: 331 Mckinstry Rd, Gardiner, NY
Housed smack dab in the heart of Hudson Valley, Whitecliff Vineyard & Winery is proud to produce some of the region's best award-winning wines, crafted with intention. Owners Michael and Yancey produce entirely vegan wines made with sustainability in mind.
Their diverse catalog of wines includes everything from big and bold Syrah and Cabernet Sauvignon to delicate Riesling and Gamay Noir. Wine tastings are offered in their new Hudson Valley tasting room overlooking fruit trees and the Hudson River.
Tousey Winery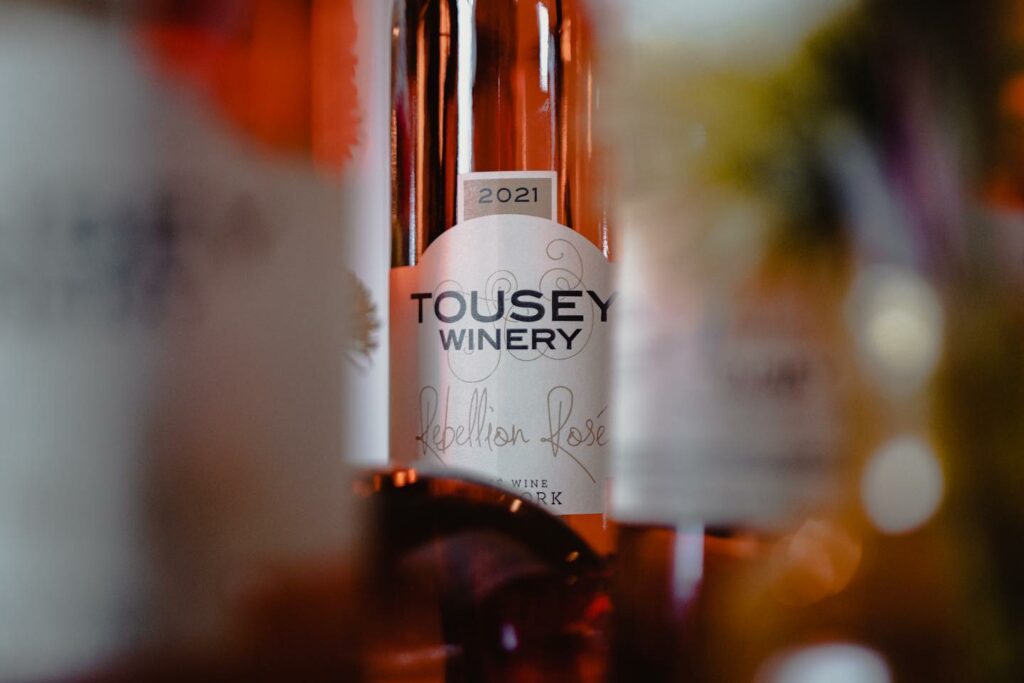 What to sip: Naughtiness Sparkling Rosé
Address: 1774 New York, US-9, Germantown, NY
Tousey Winery is a fun, laid-back boutique winery with a youthful atmosphere and equally bright wines. They have a variety of wines to taste, including big and bold reds, whites, and sparkling.
Guests can enjoy wine tasting inside or outside at the picnic tables. In addition, Tousey also has a cafe conveniently located next door that offers wine-friendly foods like flatbreads and charcuterie. Groups of six or more are required to make a reservation.
Warwick Valley Winery & Distillery
What to sip: Gewürztraminer
Address: 114 Little York Rd, Warwick, NY
Self-proclaimed "lovers of life," Warwick Valley Winery began their story in 1990 as apple growers before becoming the first cidery in New York state. Today, they're makers of world-class cider, wine, cordials, and spirits. They also have a cafe focused on locally-sourced and farm-grown ingredients.
Warwick's estate is known as a Hudson Valley music venue, so if you're in the mood for live music, this is the spot to be. Many of the shows are free to enter unless it's during the apple-picking season or one of the many infamous festivals hosted on the property.
Robibero Winery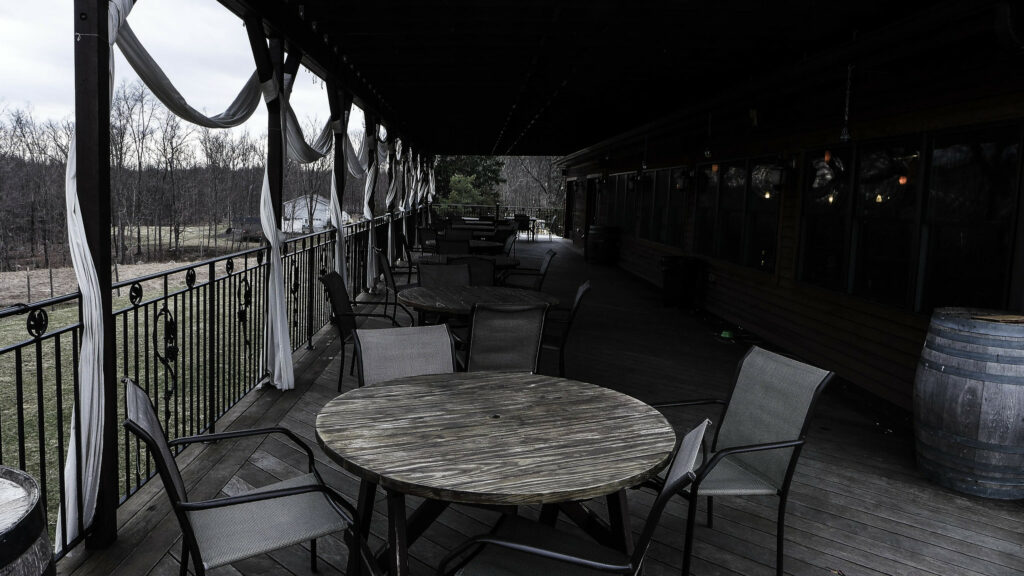 What to sip: NY Tough, a Bordeaux blend
Address: 714 Albany Post Rd, New Paltz, NY
Set along the Shawangunk Mountains ridge near New Paltz, Robibero Winery is a family-owned winery focused on small-batch wines served in a fun and family-friendly atmosphere. This is a must-visit if you're looking for an easygoing destination to relax, sip on delicious wines, and bask in the New York sunshine. They also have weekly events, including live music, comedy nights, and Mother's Day festivities.
Robibero has an eclectic selection of wines, from juicy Cabernet Franc to sweet Riesling and Seyval Blanc. Guests are welcome to walk the vineyards or enjoy a wine tasting outside. When you're hungry, you can either bring a picnic or order a wood-fired pizza from their cafe. Guests of four or more are asked to make a reservation.
Quartz Rock Vineyard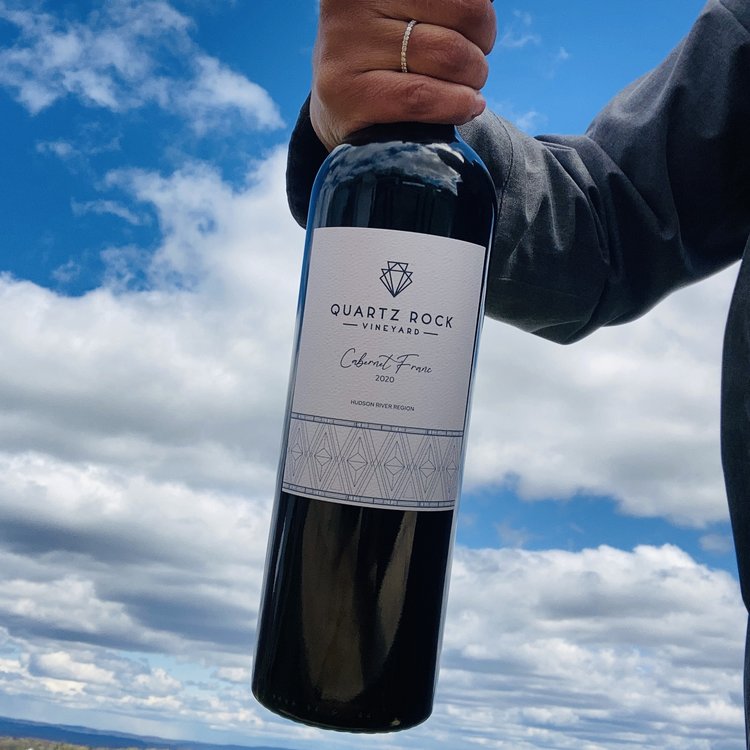 What to sip: Unoaked Noiret
Address: 40 Mountain Rd, Marlboro, NY
Formerly known as Glorie Farm Winery, Quartz Rock Vineyard is another all-day affair that's perfect for families, wine lovers, and craft beer lovers alike. All of the wines are made using estate-grown grapes from their Nightingale Farm in Marlboro. Some of their must-try wines include their Muscat Chardonnay blend, semi-dry Riesling, and Cabernet Franc, to name a few.
Guests can choose from first-come, first-serve seating or private tastings. Kids and leashed dogs are welcome, and an ever-changing selection of food popups and food trucks are available on-site. In addition, Quartz Rock also has live music on the weekends.
Applewood Winery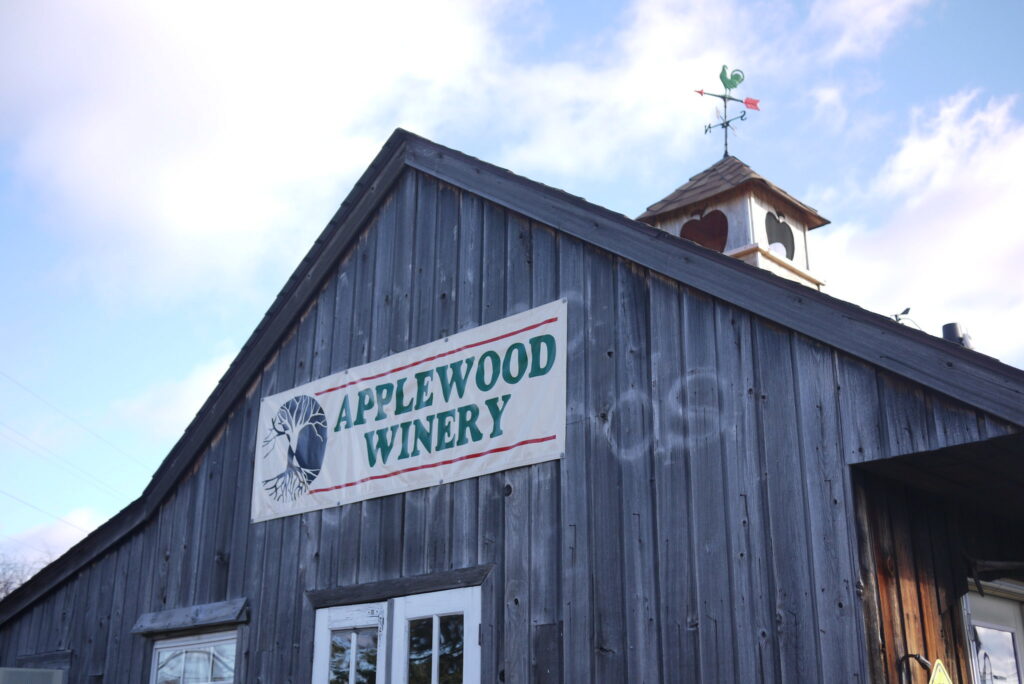 What to sip: Groovy Cuvée
Address: 82 4 Corners Rd, Warwick, NY
Perched on an epic 40-acre apple orchard, Applewood Winery is Orange County's oldest farm, dating back to 1700. Today, it's a bustling and vibrant spot known for producing both dry and sweet wines, hard ciders, and mead.
Visiting the estate is a full-on experience. Guests can choose to enjoy wine tasting, cider tasting, or sip on some handcrafted cocktails. In addition, there's free music on the weekends and a food menu featuring wood-fired pizzas and charcuterie. When you're finished at the winery, you can head next door to Apple Dave's Distillery for a spirits flight and apple picking.
Milea Estate Vineyard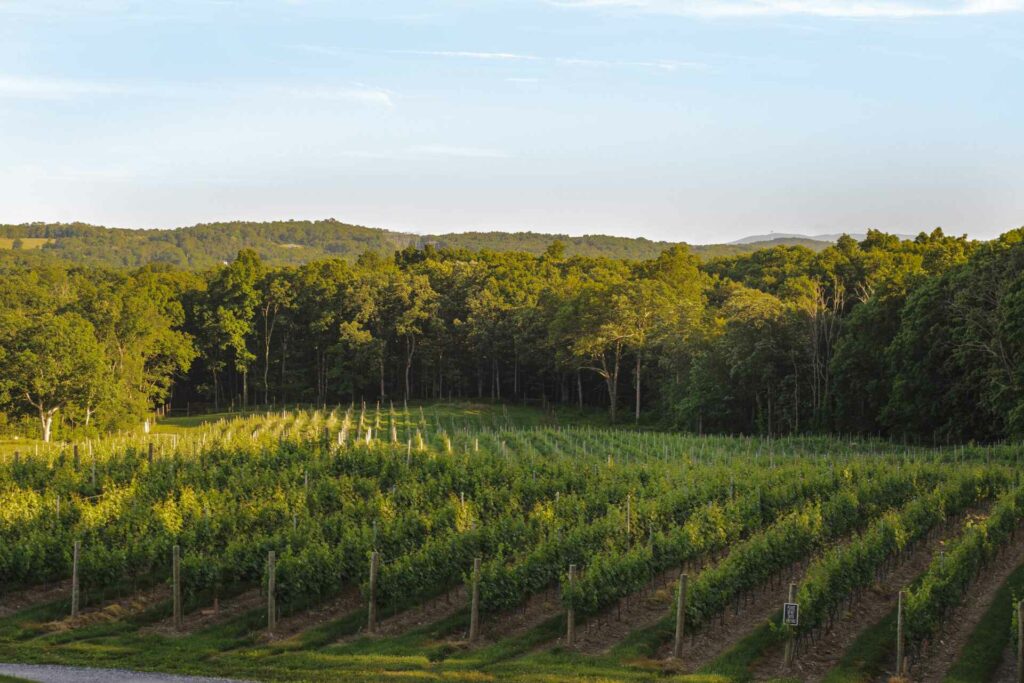 What to sip: Papa Joe Red Blend
Address: 450 Hollow Rd, Staatsburg, NY
Milea Estate Vineyard sits on the scenic landscape of Staatsburg and has been voted time and time again as one of New York's must-visit wineries. The tasting room is located in their modern reclaimed farmhouse and sits atop the estate, overlooking the Hudson River. Some of their premier wines include Claret, Grüner Veltliner, and Pinot Noir.
Guests that visit can choose between an indoor or outdoor wine tasting, a guided tour and tasting, or sharing a bottle and relaxing in the grass. When you're hungry, Milea proudly offers a curated tapas-tasting menu featuring unique Korean and French influences.
Nostrano Vineyards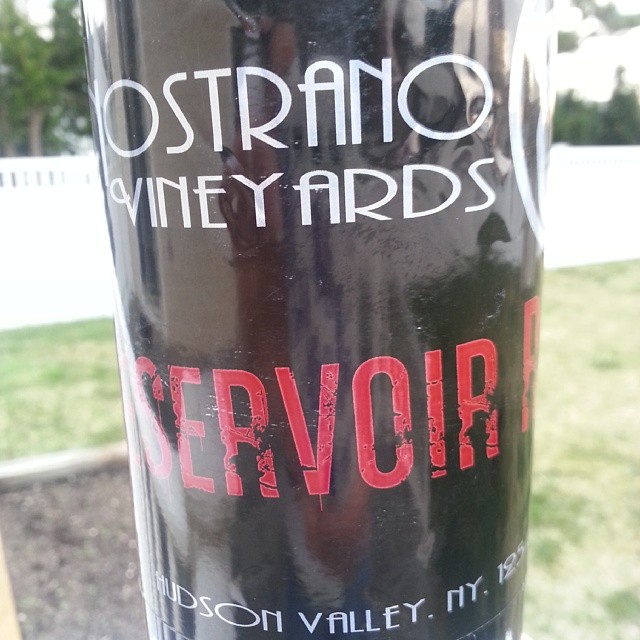 What to sip: Baco Noir
Address: 14 Gala Ln, Milton, NY
Located in Milton, Nostrano Vineyards is a 65-acre family-run farm, vineyard, and winery. The tasting room is perched atop a picturesque hill overlooking the vineyard and farm property. Some of their best-known wines include Baco Noir, Riesling, and Pinot Noir.
Guests can choose between indoor and outdoor seating, which can be reserved ahead of time, or when you arrive. They also offer locally-sourced cheeseboards and live music on the weekends.
Baldwin Vineyards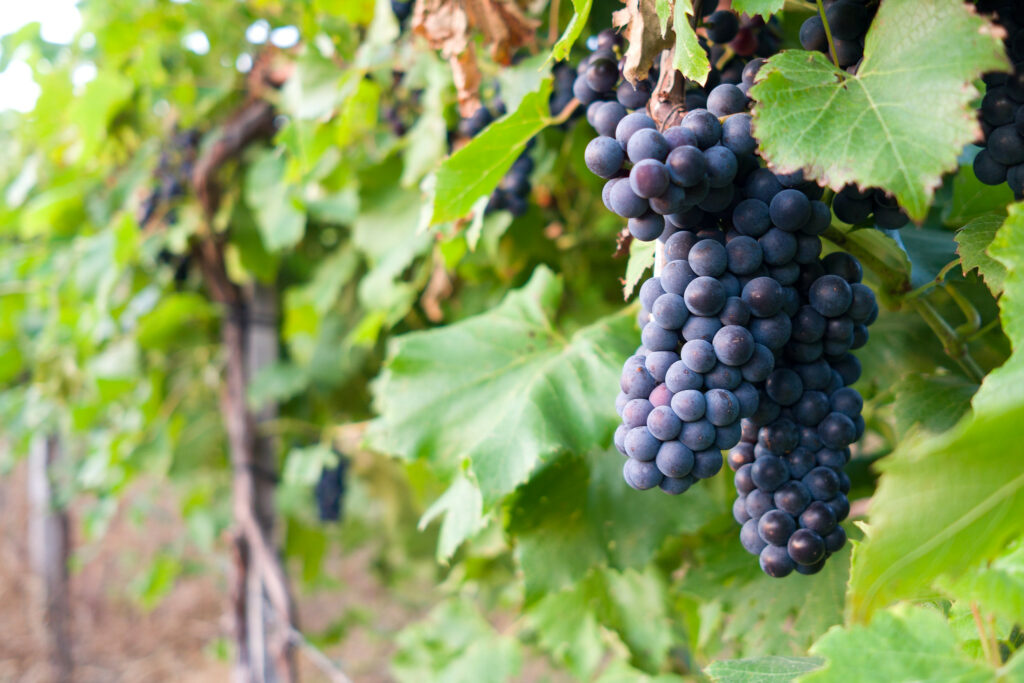 What to sip: Strawberry wine
Address: 176 Hardenburgh Road, Pine Bush, NY
Baldwin Vineyards specializes in fruit wines, first and foremost. However, unlike other fruit wineries, Baldwin emphasizes the pure expression of the fruit rather than cloaking it in copious amounts of sugar. This makes for both dry and sweet fruit wines with depth and richness.
Even if you're more of a traditional red wine drinker, Baldwin has a wide selection of wines to choose from. Guests can choose between a flight, glass, or bottle of their wine, which can be enjoyed on the property overlooking the vineyard.
Torne Valley Vineyards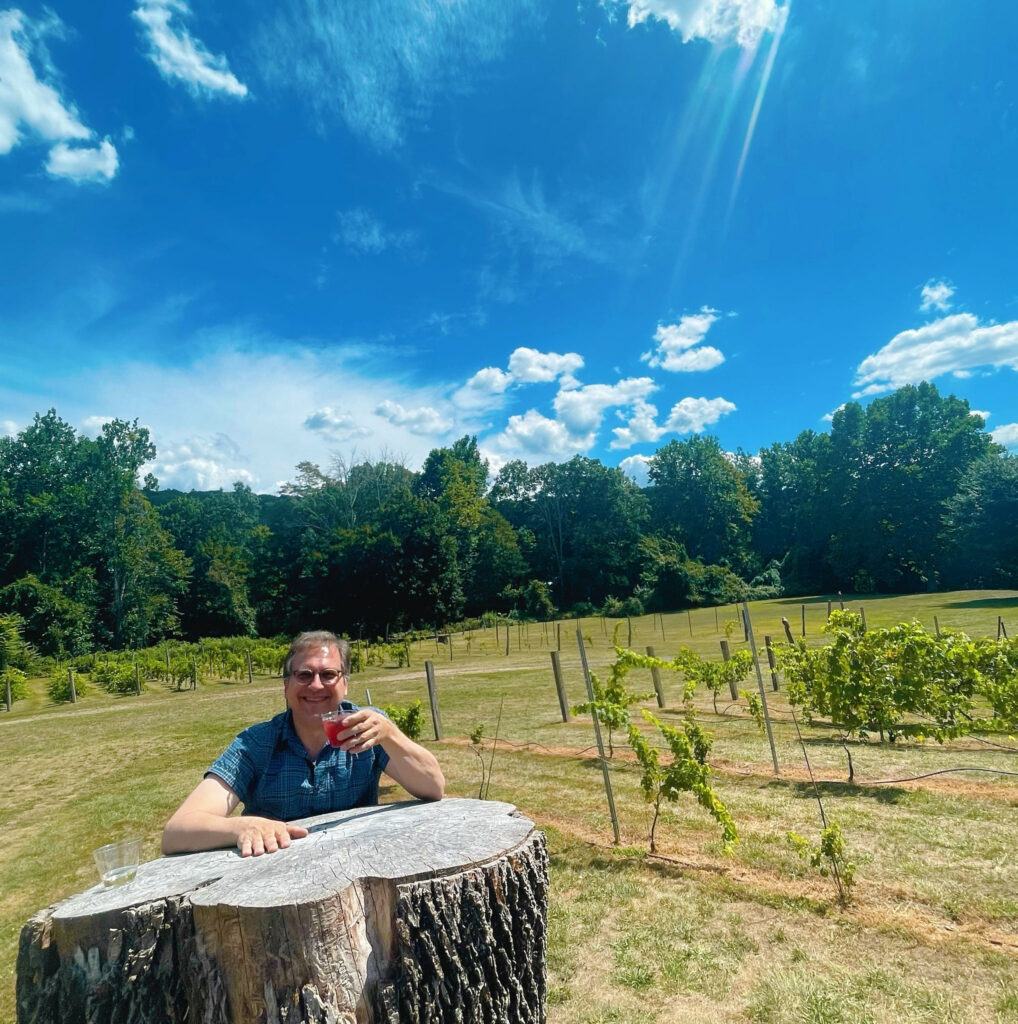 What to sip: Seyval Blanc
Address: 1-9 Torne Brook Rd, Hillburn, NY
Founded in 2009, Torne Valley Vineyards is the first official winery in Rockland County. Today, its presence on a 19th-century country estate and unique Victorian architecture make it a worthwhile destination for enjoying new-school wines in retro, old-school scenery.
Torne Valley is only open on the weekends. They offer wine tasting, glass, and bottle purchases alongside a curated selection of small bites and sandwiches. As for the wines, Torne Valley offers both red and white wines alongside local New York distilled liquors, sangria, and craft beer. Their most popular wines include the Seyval Blanc, Gewürztraminer, and sparkling rosé.
Hudson-Chatham Winery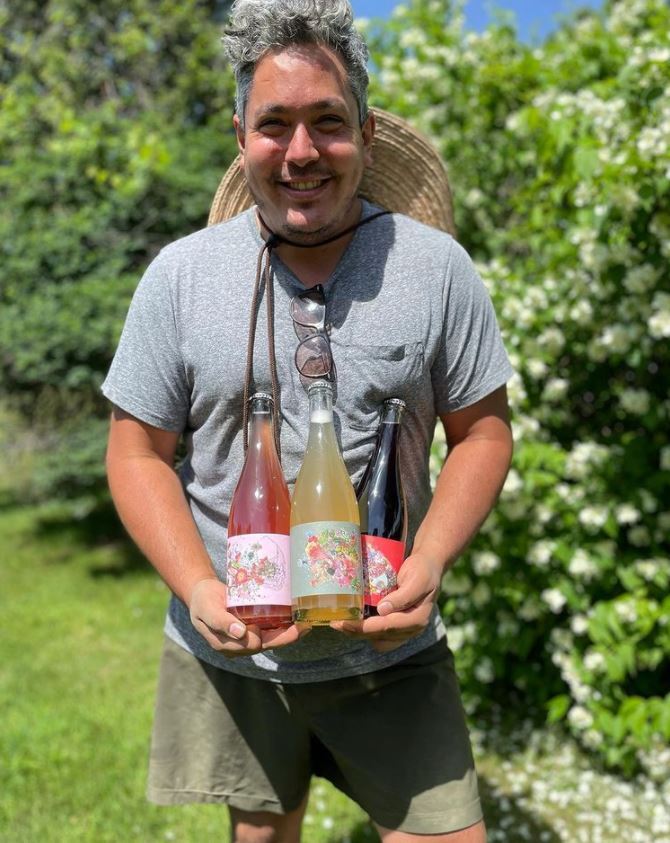 What to sip: Rosado Pet Nat
Address: 1900 NY-66, Ghent, NY
Founded in 2006, Hudson-Chatham Winery is Columbia County's first winery, though it began its story as a dairy farm established in the 1760s. Today, it's a premiere winery focused on hybrid varietals ideal for growing in upstate New York. This includes exciting and unique wines like Baco Noir, Seyval Blanc, and Chambourcin, to name a few.
HCW is a family and pet-friendly winery where kids and pups alike can lounge in the hillsides while the adults sip on some of New York's finest wines. Reservations are recommended for guided wine tastings. However, anyone can pop in for an unguided tasting or split a bottle and enjoy the fresh air.
Brimstone Hill Vineyard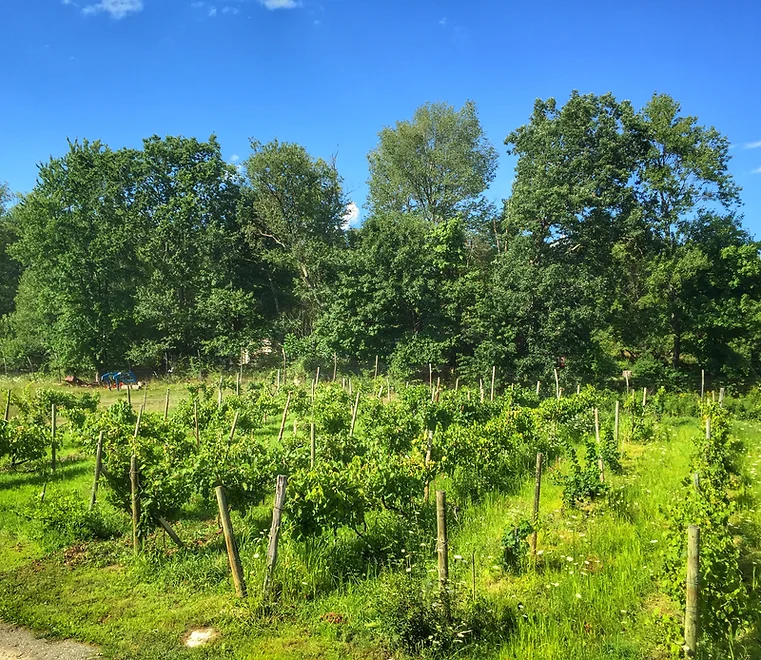 What to sip: Sparkling Chardonnay
Address: 61 Brimstone Hill Rd, Pine Bush, NY
If you're looking for "local wine with a French touch," then Brimstone Hill Vineyard is the place to be. Owners Richard and Valerie Eldridge began making wine in 1979 with only two wines. Today, they're proud to offer eight wines, including a sparkling Chardonnay made in the style of Champagne.
Richard and Valerie have focused on producing high-quality, small-batch wines made in a classic French style using varietals designed to succeed in New York. Their tasting room is open on weekends only, and many guests comment that they're the best winery on the Shawangunk Wine Trail.
Tips for Planning Your Visit to Hudson Valley Wineries
Call Ahead: Always call ahead to check open hours and to verify if they allow children and dogs.
Make Reservations: Reservations are usually required or highly suggested, especially for larger groups.
Check Food Policies: Many wineries allow you to bring food in, so plan ahead if you'd like to bring a picnic lunch.
Check the Weather: Wineries located in more rural areas may be closed due to inclement weather.
Prepare for Hot Weather: During the warmer months, be sure to carry water, sunscreen, and sunglasses, as most of the wineries offer outdoor seating.
Designate a Driver: Many wineries require a decent amount of driving between each, so decide on a designated driver in advance or utilize a car service.
Grab a Glass and Taste Your Way Through Hudson Valley
Hudson Valley is home to some of the country's most beautiful scenery and historically significant wineries. When you choose to stay at one of our vacation rentals, you'll find yourself within arm's reach of many of these fun and lively wineries.
So, whether you're a wine lover, a wine novice, or just want to bask in the New York summer sun, you'll have a blast visiting any of these wineries. Then when you're ready, your vacation rental will be there waiting for you!