Located in upstate New York, just a few miles from the hustle and bustle of the NYC city streets, the Catskills Mountain Range is a welcome retreat from the chaos of daily life. Everyone has a favorite season in the Catskills, and you'll find no shortage of incredible year-round experiences amongst these majestic mountains.
You can swim in a pristine waterfall during the scorching summer months, hike amongst the fall foliage while enjoying nature's first autumn hues, marvel over snowy mountain vistas and glittering waterfalls, or appreciate the splendor of spring as it emerges from its winter slumber.
Whether you're coming as a family or for a romantic getaway, the Catskills offers a bucket list waiting to be fulfilled while staying at a Red Cottage vacation home. These are just a few of the best ways to have an authentic Catskills experience! 
Summer Outdoor Adventures in the Catskills
From stunning waterfalls to panoramic views, the natural wonder of the Catskills is the perfect getaway for all outdoors enthusiasts. There are plenty of opportunities to take to the Delaware River for canoeing, kayaking, and tubing as well.
It would be a shame to go to the Catskills without soaking up a bit of her beautiful nature! Here are some of the highlights of outdoor adventures in the Catskills.
Kaaterskills Falls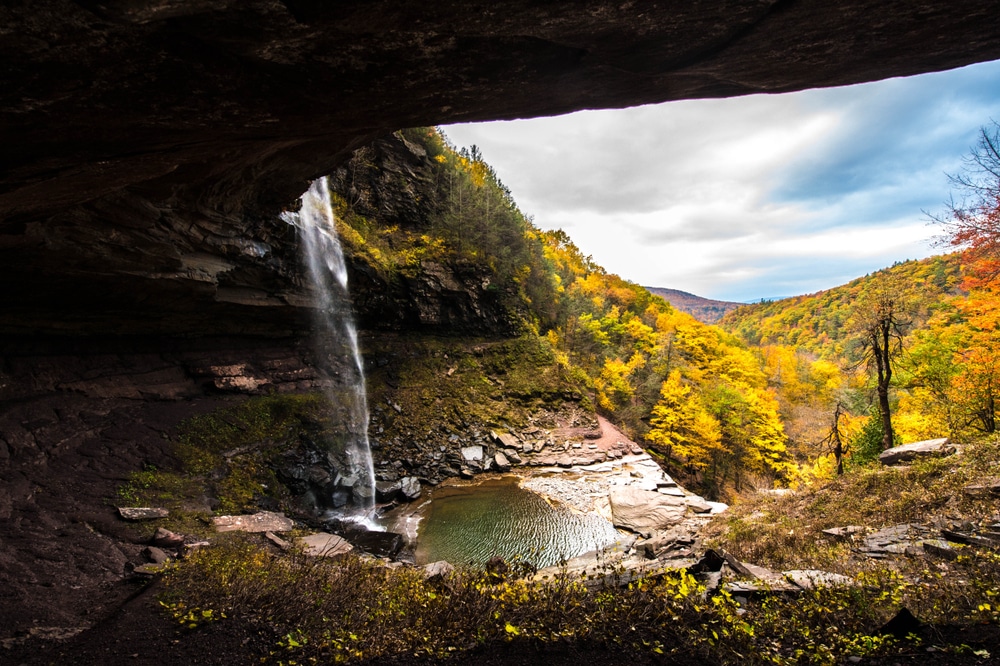 One of the most Instagram-worthy attractions in the Catskills is undoubtedly Kaaterskills Falls. Tucked inside the Catskill Forest Preserve in Greene County, you'll find the highest cascading waterfall in New York. This incredible two-tiered waterfall spans an impressive 260 feet.  
The trail itself spans approximately 1.4 miles round trip. At the top of the trail, you'll find a viewing platform for hikers, which offers an amazing aerial view of the stunning falls. You can continue down to the actual waterfall via another trail.
Be sure to wear hiking shoes, as the trek down is moderately difficult and can sometimes be quite muddy.
Peekamoose Blue Hole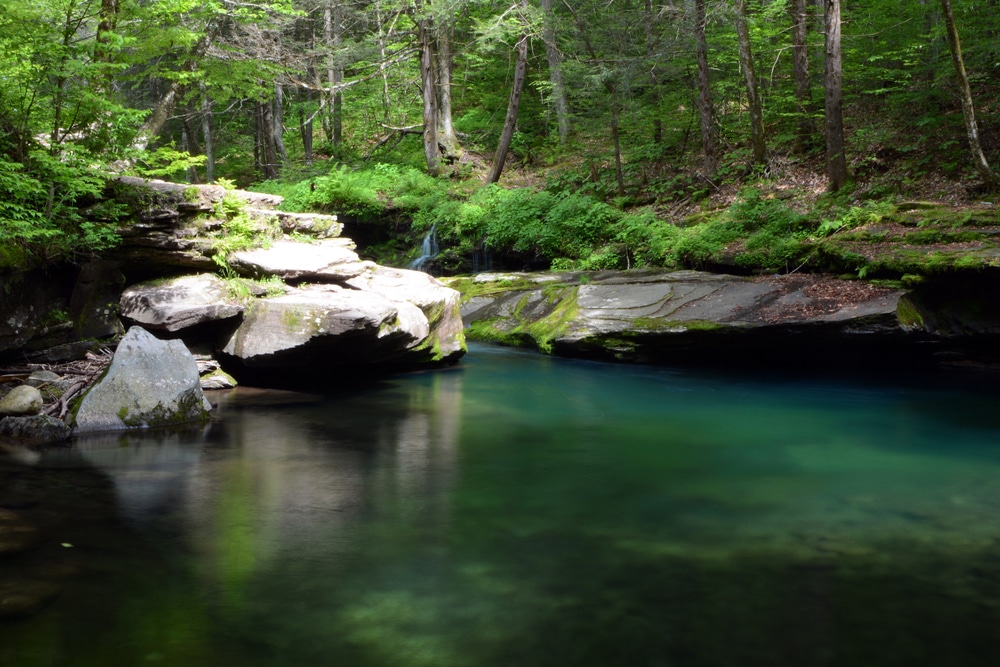 Tucked away in the scenic wilderness of the Catskill Forest Preserve, you'll find the crystal clear waters of Peekamoose Blue Hole. This natural wonder formed from sand swirling around in a whirlpool and landing in an intricate design only nature could create. While its emerald blue waters appear inviting, be warned the waters are notoriously cold.

Be sure to check out their website before visiting. This spot gets extremely crowded, and several restrictions are in place due to past issues with littering. You will need a parking permit to visit.
Overlook Mountain Fire Tower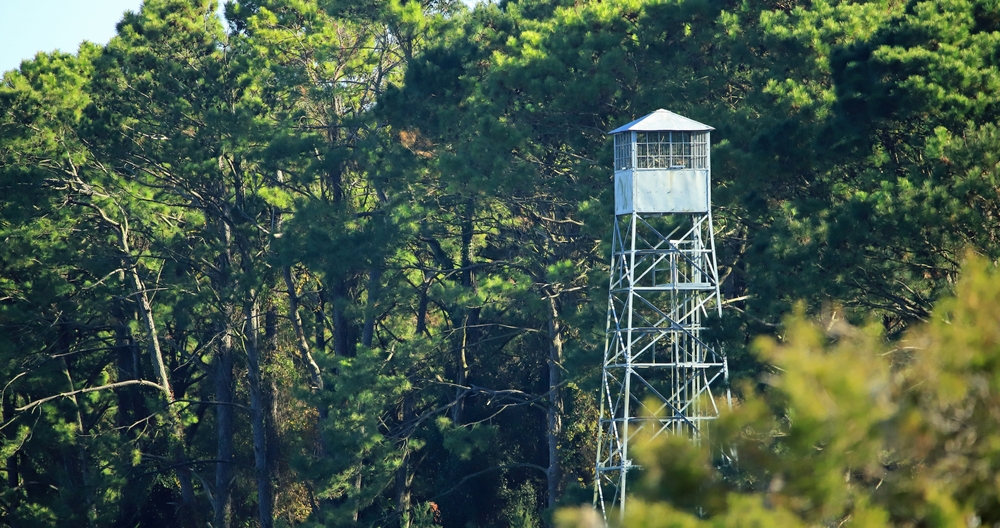 It's a bit of a hike to this spot, but well worth it for the incredible view. This 4.5 trail, located in the town of Woodstock, boasts incredible views of the Hudson River Valley and Ashokan Reservoir.
The Overlook Mountain fire tower is one of 5 stationed throughout the Catskills.  It spans 60 feet tall, reaching an impressive 3,140 elevation over the valleys below. It offers a panoramic view that is breathtaking in any season.  
Catskill Fly Fishing Center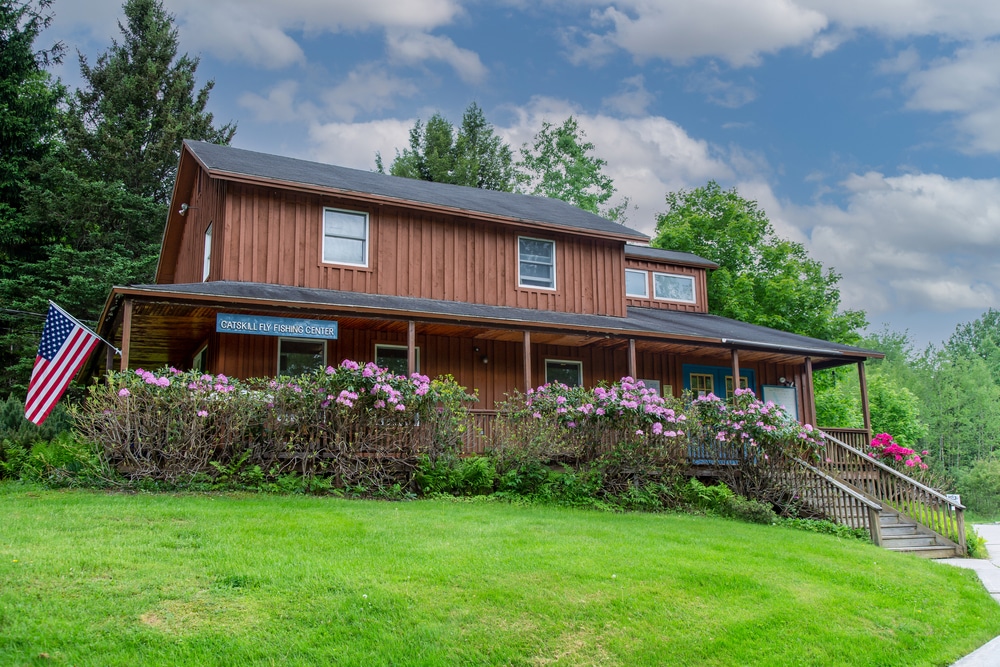 The Catskills have long been deemed the birthplace of American fly fishing. The Catskill Fly Fishing Center tells the rich history of fly fishing in the Catskills and throughout the world.
This center and museum, located on the road between Livingston Manor and Roscoe, is the perfect spot for the fishing enthusiast in your life. You can spend an afternoon exploring the 53-acre grounds which line the Willowemoc Creek banks or check out the casting fields and ponds on the property.

There is also a museum inside where you'll find the original souvenirs from the dawn of fly fishing in America. You'll also hear the stories of the fly fishing pioneers of the region and learn about the techniques they used while fishing the waters nearby.
After your visit, grab a rod and reel and cast your troubles away in the waters of one of the many surrounding rivers, ponds, and creeks.
Mohonk Preserve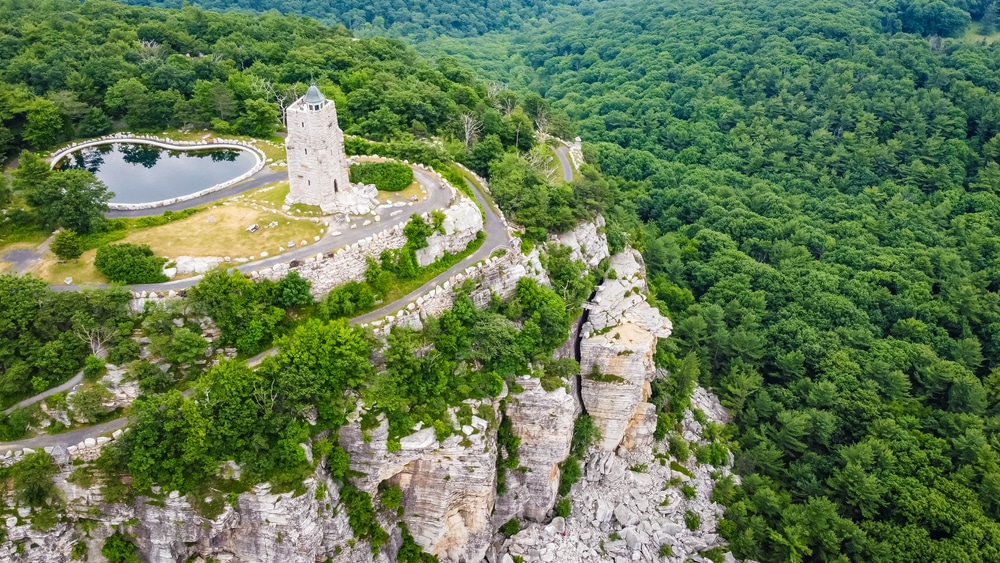 Nestled in the Shawangunk Mountains in the town of  New Paltz, you'll find New York State's largest natural preserve. Established in the mid-19th century, Mohonk Preserve was created to protect the natural scenic landscape of the region. 
With over 70 miles of hiking trails and carriage roads, Mohonk offers hours of outdoor excursions. You can also visit with your horse and ride horseback through the mountains. Thrill seekers may enjoy climbing the Gunks climbing cliffs. Mohonk Preserve also offers access to their trails for skiing/snow snowing in the winter.
The park is open year-round to visitors. There is a fee for day use, and cost-effective memberships are also available if you plan to visit for several days.
Zoom Flume Water Park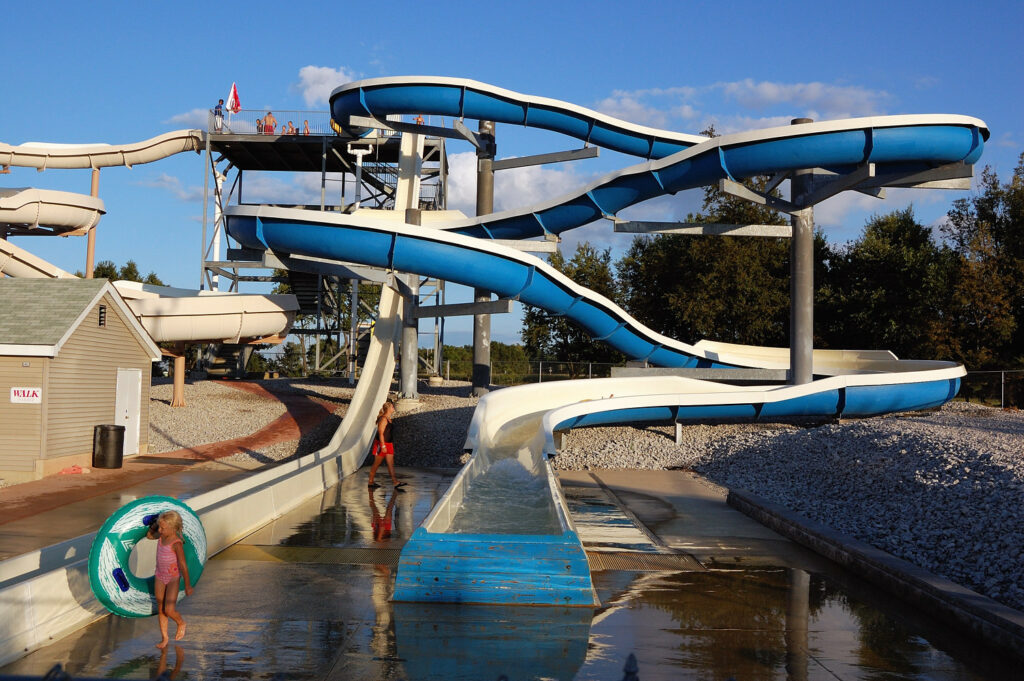 Open seasonally from June to September, Zoom Flume Water Park is a summertime attraction perfect for escaping the heat! 
Located in the center of Greene County in Windham, this expansive water park is built around a vast gorge. It offers eight different water slides, a lazy river, a wave pool, and a few pools and splash areas.

The layout of this park is unique as it's separated into three distinct sections, all with surrounding views of the mountains and the gorge. At reasonable ticket prices, this water park comes with incredible free scenery!
Saugerties Lighthouse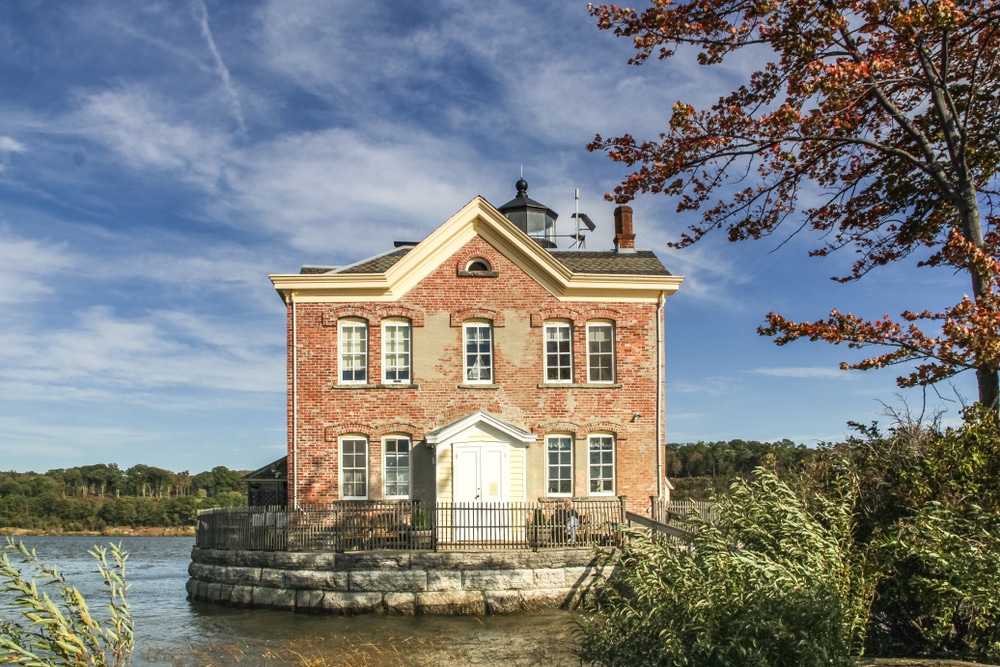 This historic beacon was constructed off the shores of the Hudson River in 1869. The Saugerties Lighthouse served to warn ships of the shallow waters of the mouth of Esopus Creek. 

The lighthouse has since been restored to reflect its original 20th-century charm. The building also contains a small museum and restored quarters open for scheduled tours. Tours include a thorough overview of the lighthouse's history and views of the museum and operational tower.
Reaching the lighthouse requires walking a half-mile nature trail through quiet coastal forests, tidal pools, and a long wooden boardwalk. Keep in mind that parts of the trail can experience tidal flooding daily, and river debris can remain on the trail. This includes sharp items, so be sure to wear footwear suitable for hiking.
Winter Outdoor Activities in the Catskills
If hitting the slopes is high on your Catskills bucket list, you'll find no shortage of world-class skiing opportunities here. Many area ski resorts also offer unique activities that can be enjoyed even if you do not visit in the winter.
Belleayre Mountain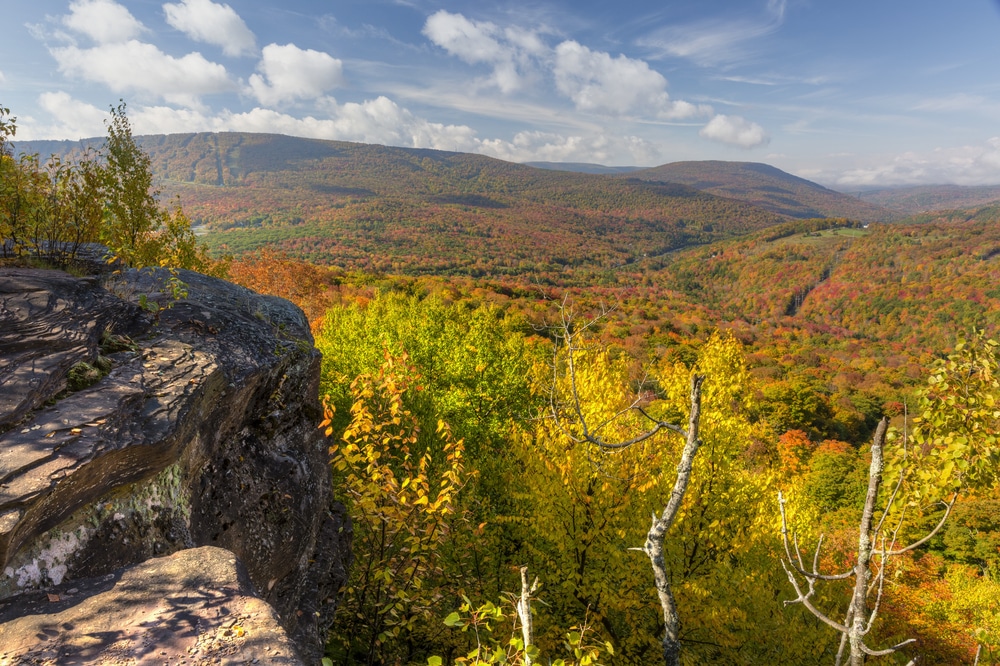 Open to skiing and snowboarding from late November to mid-April (dates vary by season), Belleayre Mountain encompasses over 174 skiable acres, 50 trails, eight lifts, and one pretty epic gondola ride.  
It is highly recommended you purchase tickets online in advance to ensure availability. Rental equipment is also available and encouraged to be booked in advance. Belleayre reopens during the summer to offer access to Belleayre Beach, disc golf, hiking, and scenic gondola views.
Their gondolas can accommodate up to 8 people for a 7-minute ride to the summit of Belleayre Mountain. You can enjoy incredible views of the Catskill Forest Preserve as you rise 1,350 feet from the lodge to the peak. After enjoying the views, you can return via gondola or by hiking down the mountain.
Hunter Mountain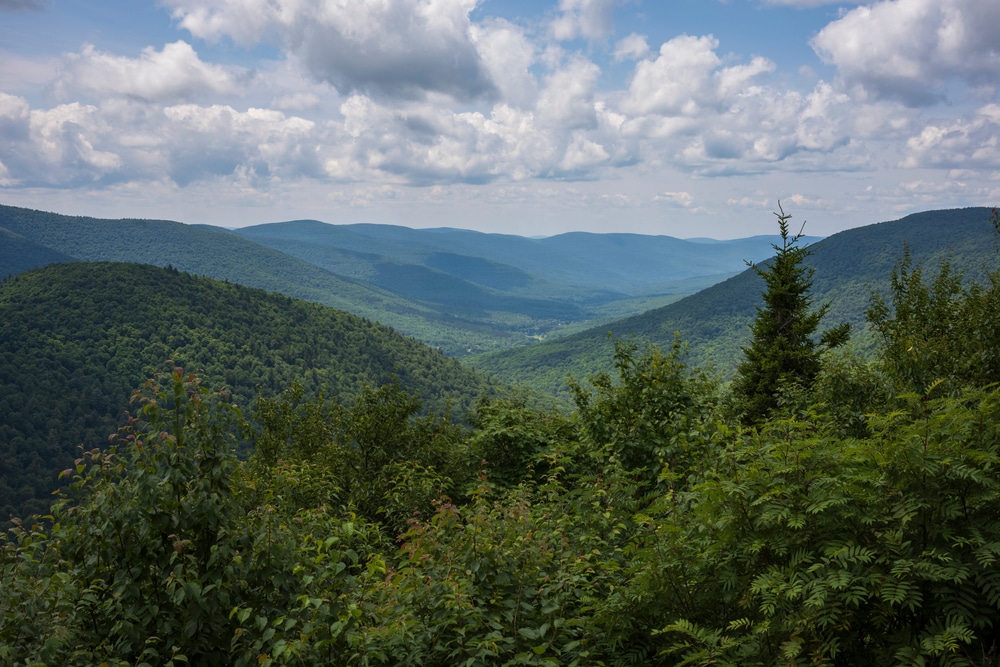 Hunter Mountain is the second highest peak in the Catskills and another favorite destination of snow bunnies in the Catskills. Located in Greene County, this mountain resort offers plenty of opportunities to hit the slopes.

Hunter Mountain offers skiing, snowboarding, and snow tubing for those in pursuit of some winter fun. They have over 50 miles of trails to enjoy.
On the mountain, you'll find other activities open year-round, including another of the Catskills fire towers. The tower is accessible by a four-mile hike through the woods or on a scenic Skyride on a chair lift to the 3,200-foot summit.
Bearpen Mountain Sports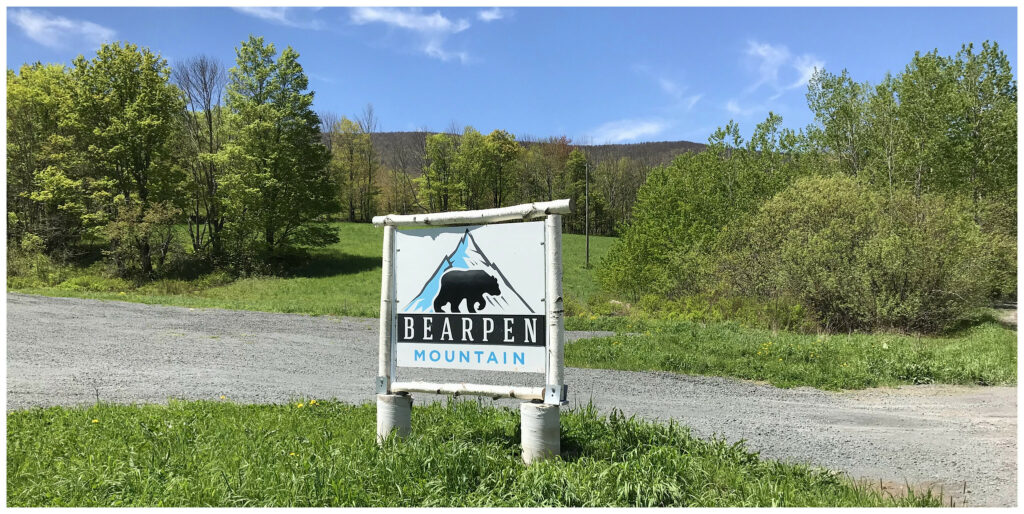 Nestled away in Prattsville, you'll find the epic outdoor playground that is Bearpen Mountain. Here you'll find abundant winter activities that everyone in your group can enjoy.  
In addition to cross-country skiing, Bearpen also offers snow tubing, fat tire biking, snowshoeing, and ice skating. They offer rental equipment for all of their activities.
Advance tickets are required for skiing and snow tubing but not other activities. The mountain is open seasonally from December to March (weather dependent).
Excursions in the Catskills
From historic sites to quirky roadside attractions, the Catskills have a unique excursion for any traveler.
Thomas Cole National Historic Site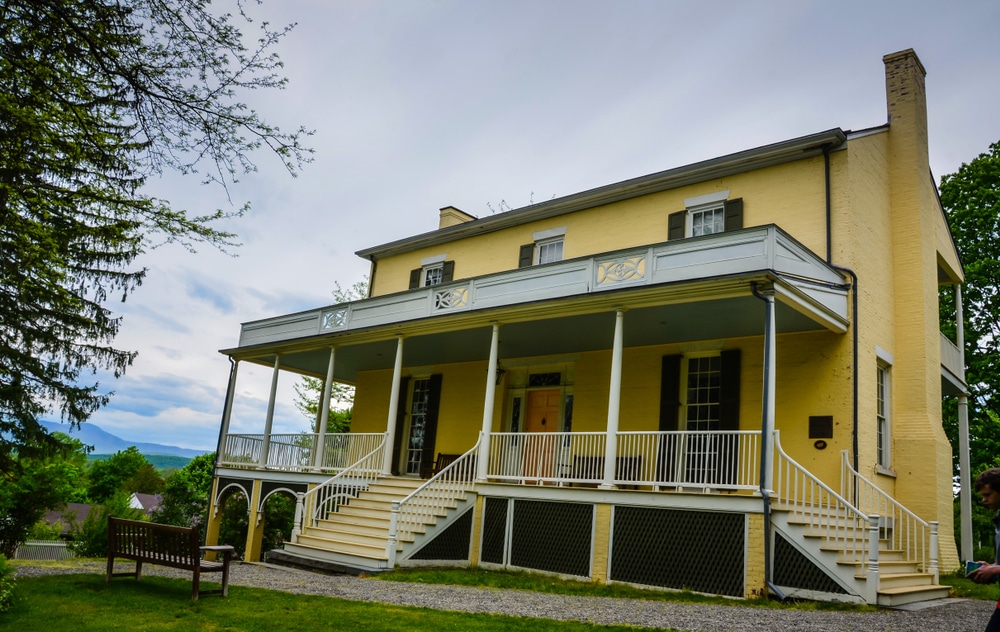 This historic site in the Catskills was once home to renowned artist Thomas Cole. Cole founded the nation's first art movement, the Hudson River School of Painting.

Upon visiting, you'll quickly realize the inspiration for Cole's landscape paintings.  His home is available to visit during a 45-minute guided tour. Tickets can be purchased online.

Bethel Woods Center for the Arts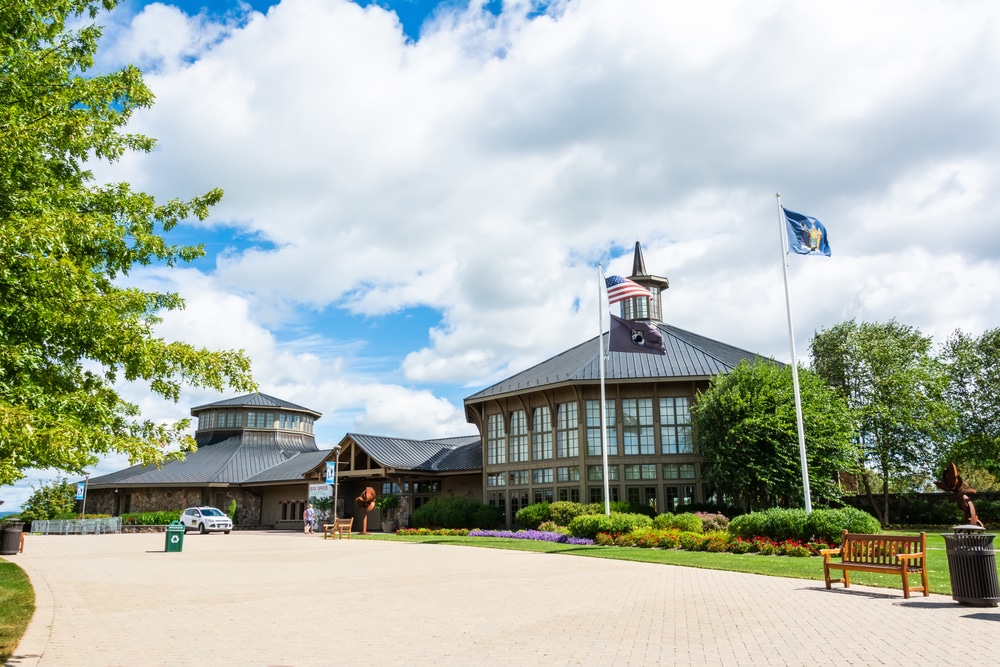 You can appeal to your inner hippie by visiting the site of the most legendary music festival in history.

In 1969 Bethel Woods Center for the Arts was home to Woodstock, a 3-day music and art festival that became synonymous with 60s Pop Culture.  This epic festival hosted legends like Jimi Hendrix, the Grateful Dead, the Who, and Janis Joplin. 
On-site, you'll find a museum dedicated to preserving the history of that extraordinary event. This impressive stadium continues to host other musical legends in concert. Check out their event calendar for an impressive lineup of concerts and festivals.
Rail Explorers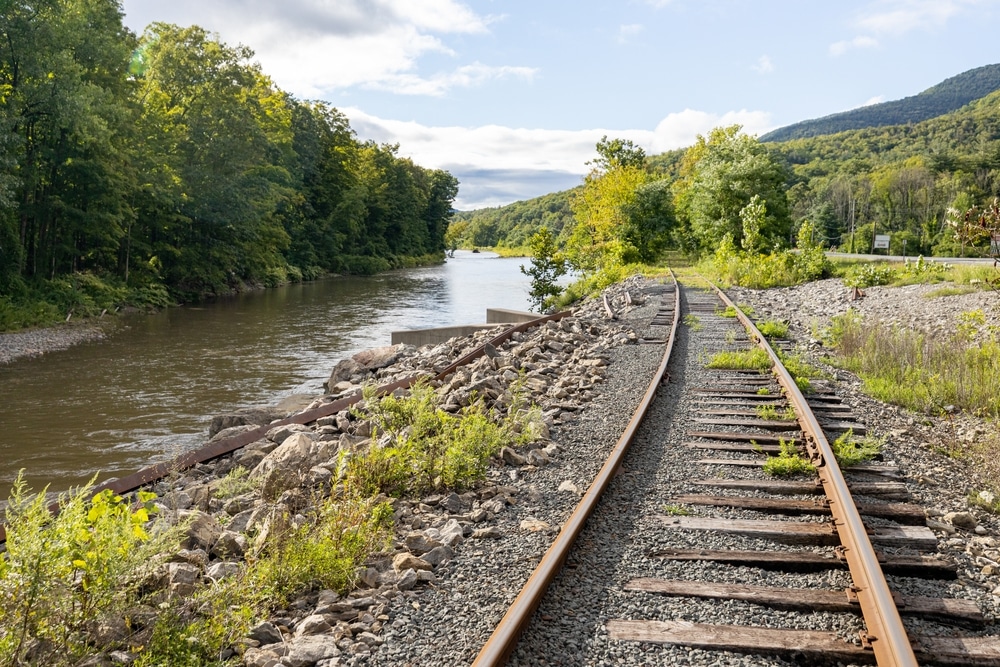 This eccentric attraction utilizes old railroad tracks and pedal-powered bikes for a truly unique mountain tour.
Located in Tannersville, Rail Explorers spans the historic Ulster & Delaware Railroad, which was built in 1899. This eight-mile round- trip is a quiet and relaxing ride through the woods of the Catskills Mountains along the banks of Esopus Creek.

Vehicles can accommodate 2 to 4 people, and the entire tour takes about 2.5 hours. This experience is hands-free, allowing you to capture incredible images and video. You can also experience this ride in the evening by lantern light.
New York Zipline
Located at the base of Hunter Mountain, you'll find the longest, highest, and fastest zipline tour in North America. New York Ziplines Mid Mountain tour offers a 4.6-mile ride zipping from peak to peak of the Catskills Mountains at speeds of up to 50 miles per hour.

They also provide a Mid-Mountain Adventure Tour, which leads you through the trees challenging you with fun obstacles along the way. Featuring a combination of rope bridges, aerial tree platforms, ziplines, and one rappel, it's a 3-hour adventure families are sure to enjoy.

You can book appointments easily through their website. Be sure to read their requirements and restrictions before booking.

Hobart Book Village
Perhaps one of the more unique locations in the Catskills is the Hobart Book Village. You'll find an eclectic collection of bookshops and boutiques in the Great Western Catskills of Delaware County.

This small town is filled with bookstores that line two blocks of Main Street. Each bookstore has its own unique charm and offers different genres, and some include rare volumes and antique texts.
Additionally, you'll find a coffee shop to enjoy a good cup of joe while enjoying your latest book haul. This quaint little town is every book lover's dream come true!
Gnome Chomsky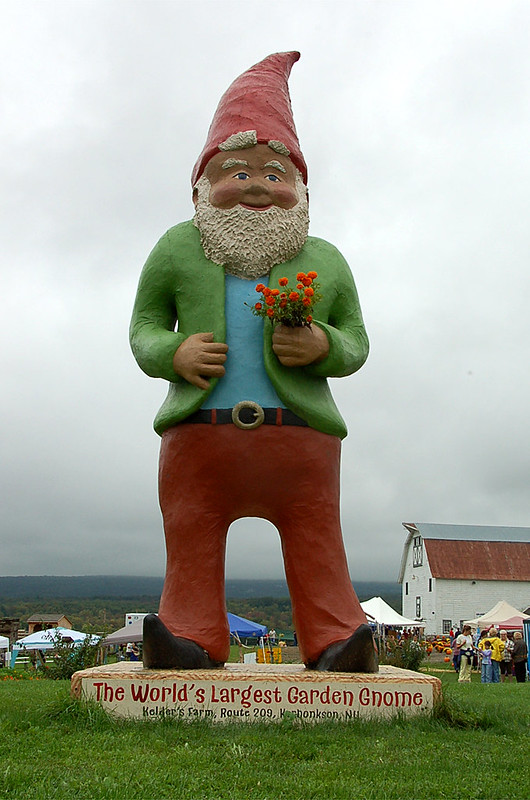 The Gnome Chomsky, a quirky roadside attraction, is a quick and unique stop! You'll find one of the world's largest garden gnomes just outside Kerhonkson's small hamlet at Kelder's Farm's entrance.  
After taking a pic with the much beloved Gnome Chomsky, be sure to pop over to the farm for some down-home family fun!
Stay and Explore in the Catskills
One thing's for sure, New York City has nothing on the natural beauty of the Catskills Mountains. No matter the reason or season for your visit, you'll find no shortage of incredible adventures while staying in a Catskills vacation home rental.
Featured Image Credit: Real Window Creative