As the crisp air whirls around your cozy rental cottage and the season of gratitude approaches, Upstate New York gears up for a cherished tradition that combines fitness, festivity, and community spirit – the Turkey Trots. From historic villages to scenic routes, these races serve as more than just a morning run; they encapsulate the essence of Thanksgiving, fostering a sense of togetherness.
Join us on a journey through the top Turkey Trots across Upstate New York, where each race offers unique charm, scenic landscapes, and a vibrant holiday celebration. Discover the races that embody the true essence of Thanksgiving in the Catskills– from supporting local charities to uniting families and communities in the spirit of giving and gratitude. 
Let's lace up our running shoes and explore the best Turkey Trots in Upstate New York!
Saugerties Turkey Trot
The former Kingston Turkey Trot is now the Saugerties Turkey Trot, held on Sunday, November 19, beginning at Cantine Field in Saugerties, NY.
The Saugerties Turkey Trot is a race through the historic Village of Saugerties with a backdrop of the Catskill Mountains. Participants are asked to bring donations for the Junior League of Kingston Period Pantry as well as canned goods in lieu of a registration fee – monetary donations will also be accepted. Participants can donate items at athlete check-in.
MHRRC Annual Turkey Trot
The Mid-Hudson Road Runners Club (MHRRC) Annual Turkey Trot is a popular race held on Thanksgiving Day in the Hudson Valley region. The event draws runners of various skill levels to enjoy a scenic course through LaGrangeville. 
All routes are out and back except for the 25K, a loop with two hills of 187' elevation change. An awards ceremony will follow the race. Participants often dress in festive costumes to add to the holiday spirit.
Troy Turkey Trot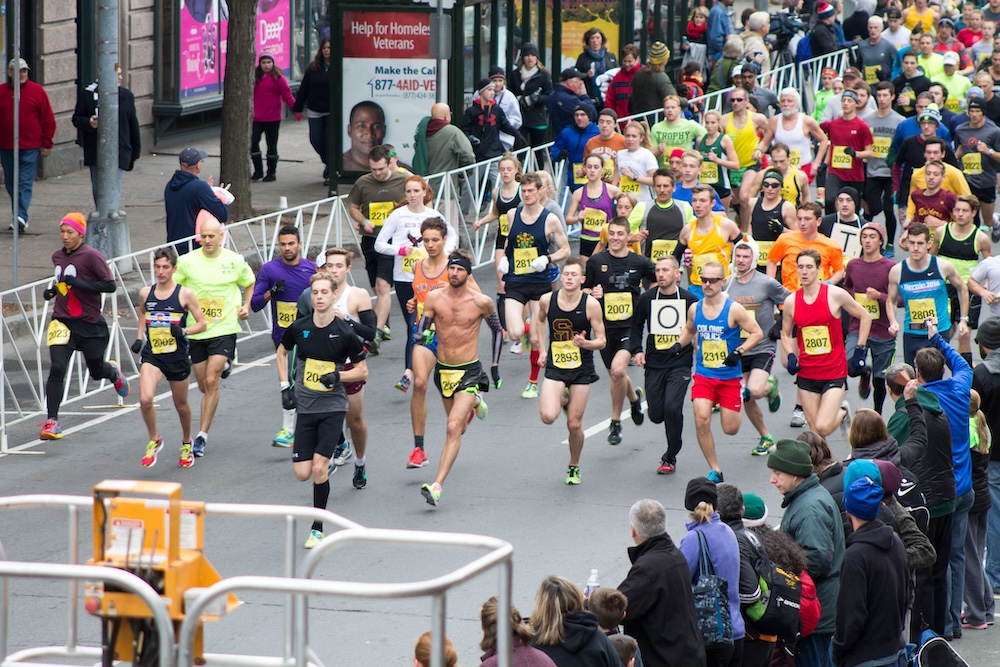 The Troy Turkey Trot is a road race, and one of the oldest and largest turkey trots in the United States, held on Thanksgiving Day. It features several events, including a 5K, 10K, and a Grade School Mile.
All races will start at Fourth and Fulton St. All races will end on River St at Monument Square. Runners and spectators alike are drawn to the historic downtown streets of Troy to participate in this Thanksgiving tradition.
The event also includes a costume contest and a festive atmosphere, making it a fun experience for the whole family. Proceeds benefit the Regional Food Bank, Joseph's House and Shelter, and other local charities.
Cohoes Turkey Trot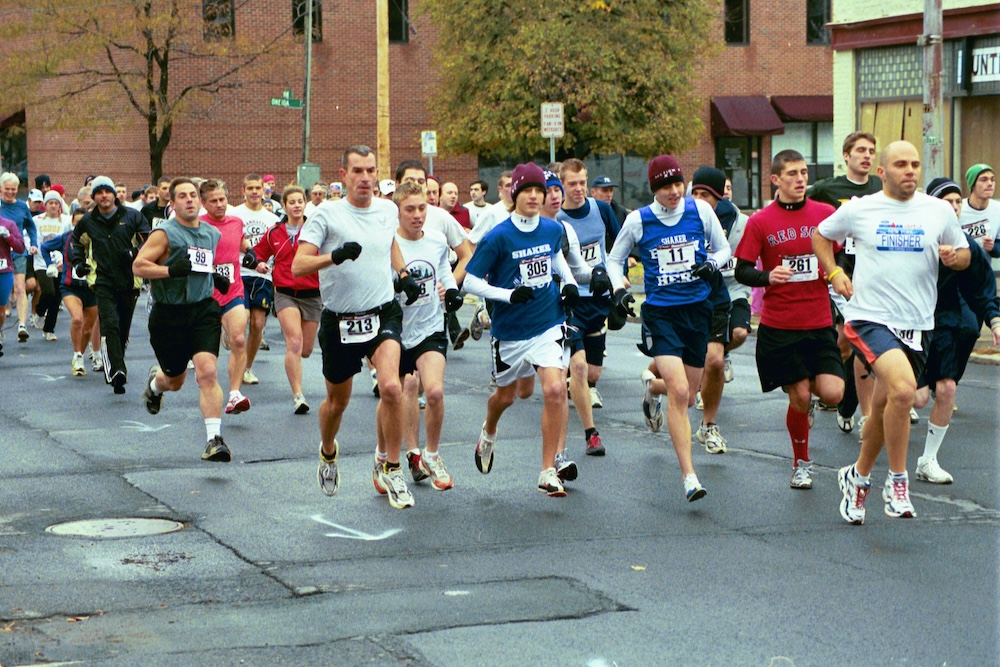 The Cohoes Turkey Trot features a 3.5-mile run/walk through the historic streets of Cohoes. Participants of all ages and abilities are welcome to join in this Thanksgiving morning tradition. The race starts and finishes at Cohoes City Hall and is followed by an awards ceremony.
Participants are asked to bring a non-perishable food item to be donated to a local food pantry.
Glens Falls Gobble Wobble
The annual Glens Falls Gobble Wobble will take place on Thanksgiving morning in Glens Falls. The race will begin at The Open Door Mission, circle through downtown Glens Falls, and finish back at the Mission. Runners can join in person or virtually.
All proceeds will support the Open Door Mission to help fight homelessness.
Christopher Dailey 5K Turkey Trot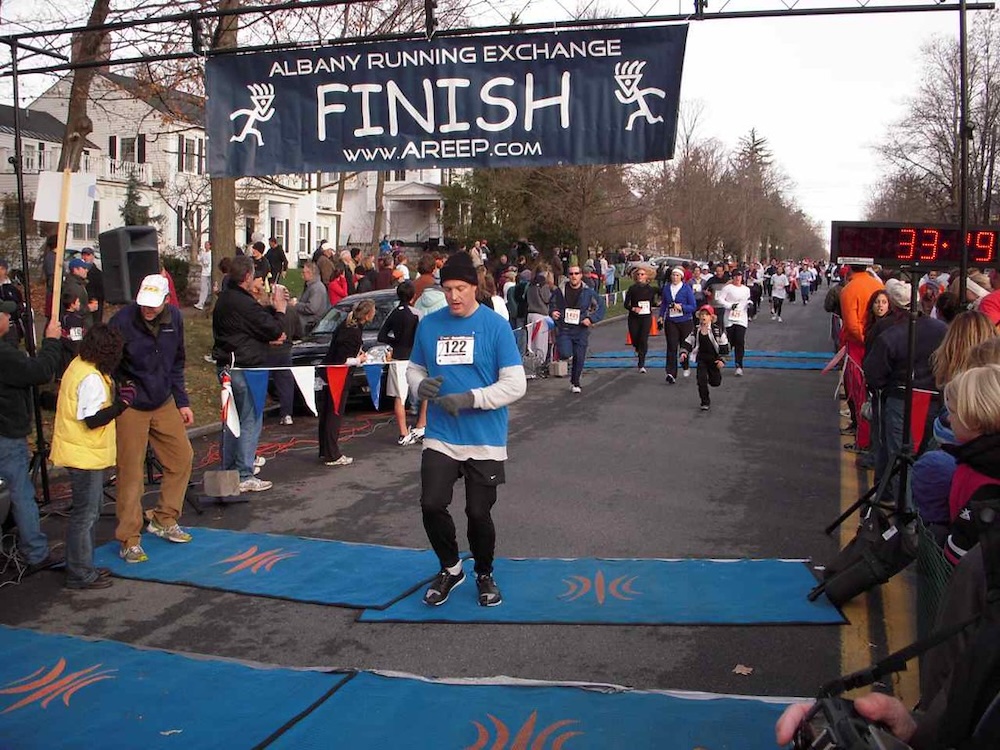 The 22nd annual Christopher Dailey 5K Turkey Trot takes place on Thanksgiving at 8:30 AM in downtown Saratoga Springs. Runners can participate in person or virtually. The race begins at Broadway and Lake Avenue, meanders through downtown Saratoga Springs, and finishes on the Corner of Route 50 and North Broadway.
All proceeds from the event will benefit the Christopher Dailey Foundation, which benefits youth activities.
Run Off That Turkey Trot 5K
The 15th Annual Run Off That Turkey Trot 5K and 2-Mile Walk is a fun and festive race that will take place Saturday, November 25th at 9 AM in Altamont. Proceeds will support local food pantries.
Participants are encouraged to bring unexpired food or dry goods to donate. Running gloves will be given to all participants who pre-register, and there will be a special award for the best turkey-related costume​!
Burn Off Your Turkey With a Turkey Trot In Upstate NY
These Thanksgiving-themed runs/walks in the Catskills and Hudson Valley offer participants the chance to engage in healthy activities while embracing the holiday spirit and support local causes in the beautiful settings of Upstate New York and its surrounding areas.
Each Turkey Trot race in Upstate New York offers its own unique experience and encourages community engagement. Whether it's a competitive run or a leisurely walk, these events bring together individuals and families to create lasting memories while embracing the spirit of the holiday.